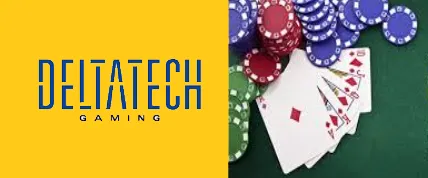 Deltatech Gaming Limited: business overview of the company
Deltatech Gaming Limited was incorporated as 'Gaussian Networks Private Limited' in Kolkata in 2011. The registered office of Deltatech Gaming Private Limited is on the 4th Floor, 148 Jessore Road, Block A, South East Corner, Kolkata, India. The corporate office of the company is 349, Udyog Vihar, Phase II, Gurgaon, Haryana, India. The company changed its name to Deltatech Gaming Limited and became a public company on May 10, 2022. The company is one of the leading gaming companies in India offers both online and offline gaming platforms for its users.
Deltatech Gaming entered the real money gaming segment in India at an early stage. The company's Adda52 is India's first online poker platform that offers multiple poker variants. Datatech Gaming occupies over 34% of the gaming market share for over seven years till Fiscal 2021.
Deltatech Gaming Limited Products:
The company leading name in the online and offline gaming platform, particularly in the Pocker game. Deltatech Gaming offers real money gaming through the platforms. The platform includes Adda52.com is offering online poker ("Adda52") in India. The platform Addagames is offering multiple RMG games. The Adda52Rummy ("Adda52Rummy") platform offers rummy games across mobile and the web. The company is building its in-house platforms and developing data intelligence capabilities.
Deltatech Gaming offers an omnichannel digital offering, with fully integrated online play, through mobile, web, and desktop versions. The company also has offline capabilities. The company's products can be divided into three categories. Firstly, card games that include Poker, Rummy, and Call break. Secondly, Sports game that includes Fantasy Cricket, Fantasy Football, etc. The third one is casual games.
Deltatech Gaming Limited Leadership team:
The company is a part of Delta Corp Limited which is a listed company in India. Delta Corp is in the casino business with its main business in Goa and extending to northeast states. Ace investor Rakesh Jhunjhunwala has invested in Delta corp. That reflects a strong parentage for Deltatech Gaming Limited.
Shivanandan Pare is the Executive Director and Chief Executive Officer of the company for three years with effect from August 19, 2021. He has over 19 years of experience across consumer businesses, corporate strategy, and investment banking. Mr. Shivanandan is an engineer in electronics and communication from Kuvempu University. He also holds a post-graduate diploma in business administration from SCMS Cochin School of Business. Mr. Shivanandan has completed the senior executive leadership program at Harvard Business School. Before joining this company, he worked with Aditya Birla Fashion and Retail Limited as the head of – the new digital business and BigAdda as the chief operating officer.
Jaydev Mody is the Non-Executive and Non-Independent Chairman of the company. He is one of the promoters of the company. Mr. Jaydev Mody has over 40 years of experience in various businesses, including real estate development, gaming, hospitality, textiles, and magnet manufacturing.
Hardik Dhebar is the Executive Director and Chief Financial Officer of the Company. He holds a postgraduate diploma in business administration (finance) from Prin L.N. Welingkar Institute of Management Development & Research. Mr. Hardik Dhebar has been associated with the company since May 12, 2008. He has over 24 years of experience in finance and treasury operations. Before joining this company, he worked with Nicholas Piramal India Limited as a senior manager and with Peninsula Group as a general manager – of the group treasury.
How much does Deltatech Gaming make from Operation?
Deltatech Gaming Limited reported a total revenue from operation of INR 1376.32 million in FY 2022 as compared to INR 1321.64 million for FY 2020 recording a growth of 4%. However, compared with FY2021 revenue of INR 1560.51 million, the company incurred a loss of 11.8% in FY2022. Total expenses have gone up from INR 929.59 million in FY 2020 to INR 1423.01 million in FY 2022. The company registered a positive profit after tax in FY2020 and FY2021. However, the company registered a loss of INR 44 million in FY2022. This reflects the fact that the company has not yet matured enough to give a consistent profit to its shareholders.
The EPS has gone down from 5.92 in FY2020 to a negative -.53 in FY2022. Similarly, the return on investment and debt to equity ratio given in the DRHP document does not look good. Looking at the numbers below, it seems this is a new-age company. One can wait to invest in the company until it becomes profitable.
All amounts in INR Million
(Year ended March 31)
2020
2021
2022
Total income
1,321.64
1,560.51
1,376.32
Total expenses
929.59
1,345.25
1,423.01
Profit after tax
298.49
159.50
-43.99
Earnings Per Share-Diluted
5.92
3.13
-0.53
Net Cash from Operating Activities
433.31
241.26
48.74
Debt-Equity Ratio
-2.5
49.19
–
Return on Equity Percentage
-134.59
2,662.77
-45.11
Return on Capital employed
-176.30
-60,416.67
-57.19
Return on investment
67.79
29.11
-7.38
Return on net worth Percentage
-134.59
2,662.77
-45.11
Source: DHRP document file by Deltatech Gaming Limited
However, the company has been increasing its consumer base for gaming. This is a positive signal that the company will grow in terms of financial performance in the future.
Suggested Reading on company insights Signature global, Hexagon Nutrition Pvt Ltd.
Gaming Industry Overview:
The gaming market in India valued at INR 150 billion in FY2021 and approximately INR 202 billion in FY2022. The industry expected to grow at a CAGR of 32% to reach INR 630 billion by the end of FY2026. Indian Gaming Market segregated into two major categories such as Real Money Games (RMG) and Non-Real Money Games (Non-RMG).
RMG refers to games based on skill with an option to play with real money. Non–RMG does not involve real money. This segment will grow rapidly, driven by the recent growth in revenue streams such as In-app purchases and subscriptions, etc. However, real money games have been the largest revenue source for India's gaming sector.
RMG segment is expected to grow at 30% CAGR by 2026 supported by regulatory clarity. New online card games like Poker, Rummy, and fantasy sports are part of this segment. Non-RMG games majorly earn through advertising on platforms while In-App purchases, to get an additional skill, gameplay sessions.
Digital gamers in India are projected to grow at a CAGR of 12% to reach 690-710 Mn in FY 2026 from 425-450 Mn in FY 2022. Web3.0 technologies like metaverse, increasing internet users, development of optical-fiber infrastructure, increasing smartphone usage, and the launch of 5G devices and 5G networks will further drive the growth of this industry.
Deltatech Gaming Competitors:
Deltatech Gaming Limited has had a market share of over 34.5% in the gaming market in India for over 7 years till Fiscal 2021. Nazara Technologies is one of the major Indian competitors listed on Indian stock exchanges recently. Nazara technology's share is available at 160 PE while the revenue of the company has been declining from INR 46 crores in FY 2020 to INR 20 Crores in FY 2022. The stock was listed above the 900 level on 30 march 2021. The share price of Nazara has been falling since then to reach a bottom at the 511 level.
These are new-age companies and are yet to see their financial performance. The valuation of deltatech gaming is yet to be determined as it has not published the per equity share price. Sporta Technologies, Tictok Skill Games Private Limited, and Galactus Funware Technology Private Limited are among other non-listed Indian competitors of Deltatech.
Suggested Reading on company insights Signature global, Hexagon Nutrition Pvt Ltd.
Deltatech Gaming Limited IPO: Do you invest?
Deltatech Gaming limited engages in various marketing initiatives to build brand awareness. In addition, the company also undertakes direct promotional initiatives like celebrity-led campaigns, influencer marketing, and online & offline advertising campaigns. The company has been investing in building in-house platforms and developing data intelligence capabilities.
Deltatech Gaming Limited has filed its Red Herring Prospectus (RHP) to raise INR 550 crore through an initial public offering (IPO). The company will utilize INR 300 crores out of the fresh issue for organic growth, through marketing and business promotion activities. It is also planning to use some amount to strengthen the technological infrastructure and to develop new capabilities or to maintain and manage the existing platforms.