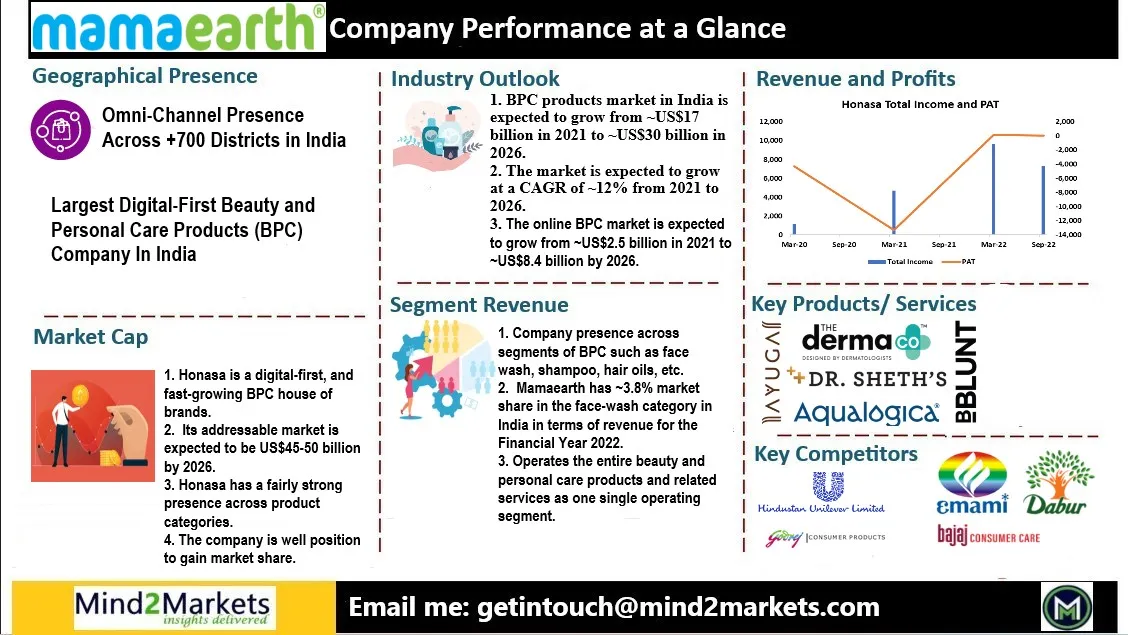 Mamaearth IPO will open from 31 Oct to 2 Nov 2023. The parent company of mamaearth, HONASA Consumer Limited filed a Draft Red Herring Prospectus (DRHP) with market regulator SEBI on December 30, 2022, for an INR 400 Crore fresh issue and 46,819,635 Equity Shares of Offer for Sale (OFS) in its Initial public offering (IPO).
The face value of each equity share is INR 10. The promoter and investor are selling a part of his stake in the company through public issues. Both the promoters Varun Alagh and Ghazal Alagh are selling 3,186,300 Equity Shares and 100,000 Equity Shares respectively. Investors such as Evolvence India Coinvest PCC, Evolvence India Fund III Ltd, Fireside Ventures Fund, Sofina, and Stellaris are selling some part of their stake in the company in this IPO.
Mamaearth IPO Details
Mamaearth IPO Details
Mamaearth IPO date Price
and other details
honasa consumer IPO date
31 Oct – 2 Nov 2023
honasa consumer IPO Price band
₹308 to ₹324 Per Equity share
honasa consumer IPO date of allotment
Tuesday, November 7, 2023
Refunds Initiation date
Wednesday, November 8, 2023
Credit of Shares to Demat Account
Thursday, November 9, 2023
honasa consumer IPO date of listing
Friday, November 10, 2023
Fresh Issue
₹ 365 Crore
Offer for Sale
53,098,811 shares
(aggregating up to ₹1,701.00 Cr)
Equity Shares outstanding prior to the Offer
310,479,227 Equity Shares
Minimum bid (lot size) 
For retail investor    
1 lot of 46 Shares
(₹14,904)
Maximum bid (lot size)    
For retail investor                                                 
13 lots of 598 Shares
(₹193,752)
Face Value
₹ 10 per share
Honasa consumer limited IPO Listing on
BSE & NSE
Mamaearth IPO – Business Description
HONASA Consumer Limited is one of the largest beauty and personal care product manufacturers and sellers in India.
The company manufactures and sells its products under different brand names.
Mamaearth is one the household brand in India that is known for its natural products.
The company focuses on developing toxin-free beauty products made with natural ingredients.
Mamaearth is one of the unicorns in India that reaches n annual revenue of ₹10 billion within six years of launch.
Hanasa consumer limited has added five brands to its portfolios such as The Derma Co., Aqualogica, Ayuga, BBlunt, and Dr. Sheth's, and has built a 'House of Brands' architecture that caters to the baby care, face care, body care, hair care, color cosmetics and fragrances segments of the beauty market.
The company had a market share of 5.3% in the online beauty and personal care market.
HONASA Consumer IPO Brands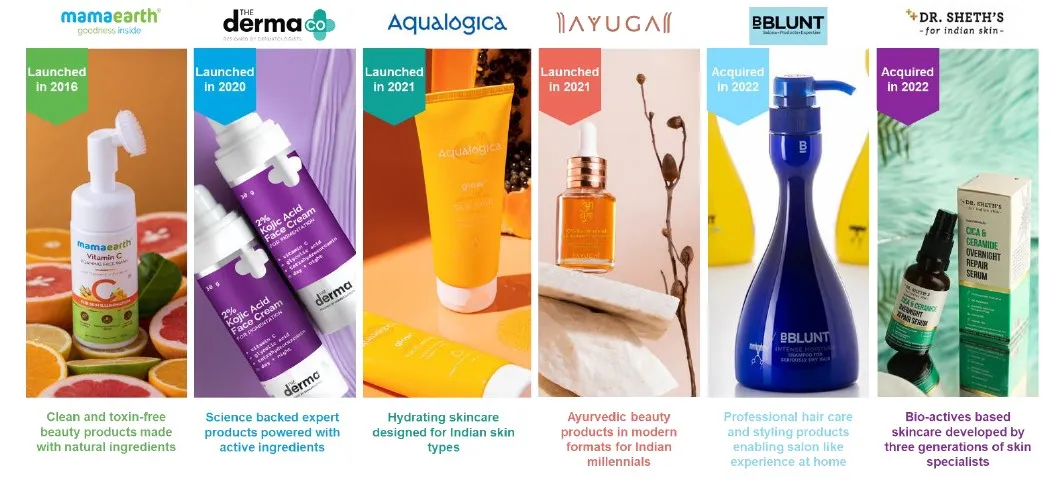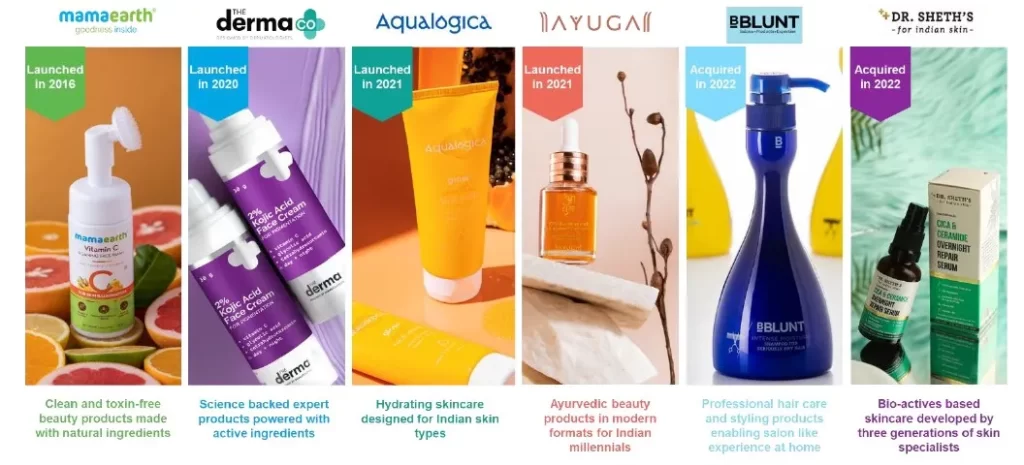 HONASA Consumer Limited Founders
The company is founded by Mr. Varun Alagh and Ghazal Alagh.
Click to Read Detailed Company Insights of Mamaearth.
HONASA Consumer Limited Revenue and profits
HONASA Consumer reported strong revenue growth operations at a CAGR of 193.15% between FY2020 to FY2022 from ₹1,097.84 million in FY2020 to ₹9,434.65 million in FY2022.
HONASA Consumer Limited IPO Financial Snapshot
All amounts in INR Million
(Year ended March 31)
2020
2021
2022
Revenue Operation
1,097.84
4,599.90
9,434.65
Total Income
1,141.67
4,721.01
9,643.45
Adjusted EBITDA
(71.92)
313.64
302.49
Adjusted EBITDA Margin (%)
(6.55)
6.82
3.21
Restated Profit/(loss) after tax
(4,280.26)
(13,322.15)
144.43
Earnings Per equity Share-Diluted
(31.63)
(98.35)
0.52
Net Cash from Operating Activities
(103.55)
297.26
445.88
NAV per share (in ₹)
(15.37)
(61.80)
23.42
Total borrowings
5,927.56
19,539.99
35.86
Objects of the Mamaearth IPO Proceedings
The company will not receive any amount from the OFS. However, the company will utilize the amount from fresh issues as below.
Rs. 186 Crore will be spent on advertisement expenses towards enhancing the awareness and visibility of our brands.
The company is planning for Rs. 34.23 Crore Capital expenditure for setting up new EBOs.
Rs. 27.52 Crore will be invested in the company subsidiary, BBlunt for setting up new salons.
Also Read ESAF Small Finance IPO Analysis
HONASA Consumer Limited IPO: Do you invest?
HONASA Consumer Limited is one of the leading beauty care product brands in India with a strong household brand as natural products.
The operating revenue of the company has been growing over the years.
Adjusted EBITDA margin also improved significantly from negative (6.55%) in FY2020 to positive 3.21% in FY2022.
With the increasing number of working women, the demand for beauty products is expected to increase.
Further, the Indian economy is expected to do better across the world with 7% GDP growth in FY2023, while GDP growth may be up in the next two years.
The growth in the industry will further drive revenue for the company.
I would like to invest in the IPO both for listing gain as well as short term. However, it will depend on the price per share or the valuation of the per share price.
Many new age companies such as payTM, Nykaa, recently listed in exchanges failed to impress investors.
Honasa is just became profitable in 2022. Hence, we should invest only if the mamaearth IPO valuation of the equity share is not reasonable.
Also Read Protean egov technologies IPO Insights
Mamaearth IPO Lead Managers and Contact
Contact Details
Lead Managers
Plot No. 63, 4th Floor,
BLM Tower,
Netaji Subhash Marg,
Sector-44,
Gurugram 122 003,
Haryana, India
Email: compliance@mamaearth.in
Telephone: +91 124 4071960
www.honasa.in
1. Kotak Mahindra Capital Company
Limited
2. Citigroup Global Markets India Private
Limited
3. JM Financial Limited
4. J.P. Morgan India Private Limited


Mamaearth IPO allotment status will be available on KFin Technologies website website. To know your allotment status, get ready with your PAN number and click on this link. You may also reach out to Telephone: +91 40 6716 2222, E-mail: zaggle.ipo@kfintech.com
Mamaearth IPO GMP
| | | |
| --- | --- | --- |
| Date | Mamaearth IPO GMP | IPO Price |
| | | |
| | | |
| | | |
| | | |
| | | |
More Across from our Website
We endeavor to help you to understand different aspects of a company before you invest in the company's IPO, India IPO Trends 2022, New Companies in the Indian share market 2022. To know more information about business overview of each company, here are some suggested readings on company insights for investment – 10 Best IPOs in 2022, Concord Bio IPO, Tata Play IPO, Upcoming IPOs, Upcoming SME IPOs.