MobiKwik Company and its operation:
The company is founded as "One MOBIKWIK system Private Limited" on March 20, 2008, as a private limited company in New Delhi, India which is the parent company of MobiKwik. MobiKwik came into operation in 2009. The company is a fintech company that provides a mobile phone-based payment system and digital wallet. It is one of the largest mobile wallets in India. Following RBI regulation, the wallet allows Indian consumers to store money in a virtual wallet. The user can then use it across channels such as mobile, desktop, tab, SMS, and IVR to pay utility bills and shop with registered merchants.
The company has been certified as a top security wallet by international standards such as PCI, DSS, ISO, etc. As of March 31, 2021, our Company had over 101 million registered users and more than 3.44 million e-commerce, physical retail, and biller partners. The company operates in three segments such as First, BNPL; Second, Consumer Payments (MobiKwik Wallet); and third, Payment Gateway (Zaakpay). The company also started its operation in the mutual fund business. A user can directly invest or redeem mutual fund investments using the MobiKwik app.
BNPL (Buy Now, Pay Later) segment is the fastest-growing business segment for MobiKwik. Users can get a credit of up to INR 30000 in "MobiKwik ZIP" to shop at over 1 lakh brands. This segment recorded five times growth in gross merchandise value (GMV) and transactions, and four times growth in Zip users. The repeat rate for Mobikwik Zip (the BNPL product) users is 83%, which reflects strong demand for this product. The average monthly spending per user on this app is around INR 3,339. There were 20.3 million recorded transactions using this app in FY22.
MobiKwik Company Management Team:
Bipin Preet Singh is the Managing Director, Co-Founder, and CEO of the company. Bipin Preet Singh founded MobiKwik with a vision to transform the digital payments landscape in India and to make financial services affordable and available to Indians. He holds a bachelor's degree in Electrical Engineering from the Indian Institute of Technology, Delhi, and has more than 19 years of experience in technology, payments, and financial services. He spent over 7 years as a Platform Architect at companies such as Intel, Nvidia, and Freescale. Mr. Bipin Preet Singh has been also recognized many times as one of India's leading Tech founders.
Chandan Joshi is the Whole-time Director, Co-Founder, and CEO of the Consumer Payments Business of the Company. He has been associated with the Company since 2018. He is currently handling the Consumer Payments Business. Chandan Joshi holds a bachelor's degree in Textile Technology from the Indian Institute of Technology, Delhi, and an MBA Degree, specializing in Finance and General Management from London Business School. He has diverse global experience in the financial industry and investment banking sectors along with entrepreneurship expertise in India.
Upasana Rupkrishan Taku is the Chairperson of the company's Board, Executive Director, Co-Founder, and COO of Mobikwik. She holds a bachelor's degree in Industrial Engineering from Punjab Technical University and a master's degree in Management Science and Engineering from Stanford University. She has over 17 years of experience in products, payments, and financial services. Before this assignment, she worked as a Product Manager at PayPal, San Jose in the Financial Services, Global Payments, and Risk divisions.
MobiKwik Company Financial snapshot:
MOBIKWIK reported its annual revenue of INR 30.23 billion in the year ended 31st March 2021 decreased by 18.28% from INR 36.99 billion in the year 2020. Total income significantly increased by over 100% from INR 16.02 billion in the year 2019 to INR 36.99 billion in the year 2020. However, the total expenses also increased from INR 30 billion in 2019 to INR 45.5 billion in 2020. The company has been in loss for the last three years, though the loss has decreased from INR 15 billion in 2019 to INR 11 billion in 2021. The company needs to work on both improving its top line and controlling its costs.
| Financial Snapshots (INR Million – Year ended March 31) | 2019 | 2020 | 2021 |
| --- | --- | --- | --- |
| Total income | 1602.32 | 3698.54 | 3022.56 |
| Total expenses | 3020.98 | 4544.91 | 4040.7 |
| Loss before tax | -1511.95 | -980.5 | -1102.63 |
| Loss for the year | -1479.73 | -999.2 | -1113 |
Source: DHRP document file by Mobi Kwik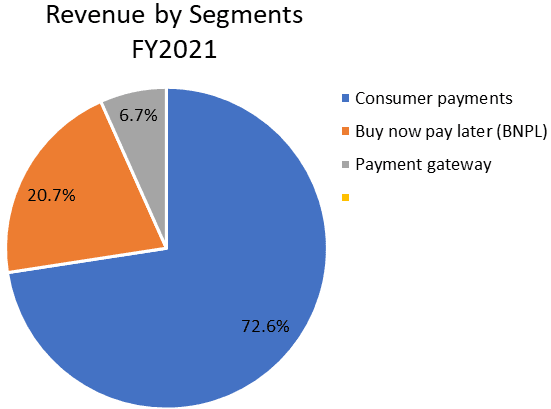 MobiKwik Company Revenue from Operation:
Mobikwik operates in three segments. The company earns 72.6% of the total revenue from Consumer payments and 20.7% from Buy now pay later (BNPL) in FY21. The total share of Consumer payments has increased from 64.7% in FY20 to 72.6% in FY21. The total share of BNPL has remained constant at ~20% for both years. While BNPL is the fastest-growing segment in India, the total share of Payment gateway has declined from 14.4% in FY20 to 6.7% in FY21.
To make lending easier in India for digitally-savvy Indians, the company launched P2P lending with 'Xtra'. The customers can earn an interest of up to 12% per annum on their investments by lending to other high-credit and trustworthy customers. MobiKwik is planning to launch this product in partnership with RBI-registered NBFC, Lendbox.
Funding Activities in MobiKwik:
MobiKwik planned to raise INR 15000 million through Initial Public Offering in the year 2022. However, due to a lackluster response to the other IPOs during the broader market downtrend, the company postponed its plan. MobiKwik planned to invest the net proceeds for organic and in-organic growth.
After IPO getting delayed, MobiKwik is looking for potential investors to raise $100 million/ ~INR 792 Crs in equity to meet its planned growth. Mobikwik was valued at over $700 million when it obtained cash from the Abu Dhabi Investment Authority in 2021. American Express Co. and Sequoia Capital, Bajaj Finance Limited, Cisco Systems (USA), and Tree Line Asia Master Fund (Singapore) are among the major investors in the firm.
Industry Outlook:
The consumer internet market in India witnessed a strong recovery in gross transaction value ("GTV") terms through the course of Fiscal 2021. The consumer internet market is expected to continue steady growth in Fiscal 2022 and cross triple digits GTV for the first time and eventually reach US$ 300 plus billion by Fiscal 2026.
Online transacting users in India have grown significantly at a CAGR of approximately 15% from 180 million in Fiscal 2018 to over 250 million in Fiscal 2021. This population base will continue to expand in the future, primarily accelerated by growth in convenient online payment solutions. Online payment solutions can be used to pay for a wide range of services or products online. In addition, mobile wallet payments are also expected to grow (by value) by three times to reach approximately US$ 60-70 billion by Fiscal 2026. These factors will further boost the growth of this company in the future.
Suggested Reading: Tracxn Technology IPO Details