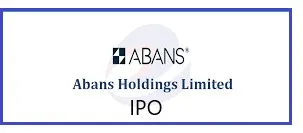 Abans holdings IPO will be floated in December 2022. The company filed Red Herring Prospectus (RHP) with market regulator SEBI on December 03, 2022, for an Initial public offering (IPO). Abans holdings Limited is coming up with an Offer for Sale (OFS) of 38,00,000 Equity Shares and a fresh issue of 90,00,000 Equity Shares.
The face value of each equity share is INR 2. The promoter Mr. Abhishek Bansal is selling a part of his stake in the company through public issues.
Object of the Abans holdings IPO
The company will not receive any amount from the OFS. However, the company will utilize the amount from fresh issue to

Further Investment in the NBFC Subsidiary (Abans Finance Pvt. Ltd.) for financing the augmentation of its capital base to meet its future capital requirements.
General Corporate Purpose.
Abans holdings IPO – Business Description
Founded in 2009, Abans holdings Limited engaged in Financial Services, Gold Refining, Jewellery, Commodities Trading, Agricultural Trading and Warehousing, Software Development, and Real Estate. Headquartered in India, the company is the financial services arm of the Abans Group.
The company provides NBFC services, global institutional trading in equities, commodities, and foreign exchange, private client stock broking, depositary services, asset management services, investment advisory services, and wealth management services to corporate, institutional, and high net-worth clients.
The services can be categorized under three such Finance Business, Agency Business, Capital, and other Business.

Focused on lending to private traders and other small and medium businesses involved in the commodities trading market.
Offers various institutional and noninstitutional trading services, wealth management, and private client brokerage services.
The company also provides Warehousing Services to commodity market participants.
Abans holdings operate through 17 subsidiaries.
The company has active businesses in 6 countries across the Eastern Continents, including Hongkong, the UK, UAE, China, Mauritius, and India.
Abans holding is a member of the BSE, NSE, MSEI, NCDEX, ICEX, MCX, and IIEL in India.
The company is also a member of the London Metal Exchange (LME), Dubai Gold & Commodities Exchange (DGCX), Dalian Commodity Exchange (DCE), and Shanghai International Energy Exchange (INE).
Abans holdings Limited Founders and Leadership team
The company is founded by Mr. Abhishek Bansal. He is the Chairman and Managing Director of the company. He leads a global team of qualified people from multiple locations including India, the United Kingdom, Dubai, Shanghai, Hongkong, and Mauritius.
Suggested Reading on company insights Signature global, Hexagon Nutrition Pvt Ltd, Deltatech Gaming.
Abans holdings Limited Revenue and profits
Abans holdings reported strong revenue despite economic contraction caused by Covid 19. The company restated Profit after tax has grown at a CAGR of 25.71% from ₹ 3,921.64 lakhs in FY 19-20 to ₹ 6,197.15 lakhs in FY 21-22. However, the total revenue from the operation has declined from ₹277,187.98 lakhs in FY 2020 to ₹64,623.46 in FY2022.
Abans holdings Limited IPO – Valuation Parameters
Abans Holdings Limited has been registering a strong PAT over the years. The parameters such as the PAT, total Borrowing and Net worth are looking strong over the years.  Refer to the table below for all the details valuation parameters. Looking at the numbers below I will not suggest investing in the Abans holdings IPO. There are other listed peers such as Edelweiss Financial Services Ltd. Geojit Financial Services Ltd. are available with good valuation.
Abans holdings Limited IPO – Financials and other parameters
All amounts in INR Million
(Year ended March 31)
2020
2021
2022
Total Income
2771.88
1331.37
646.23
Total Assets
1212.98
1181.51
1168.69
Profit After Tax
39.22
45.8
61.97
Net Worth
499.55
561.95
631.11
Total Borrowing
318.79
267.39
85.9
Earnings Per equity Share-
basic and Diluted
8.46
9.88
13.37
Net Cash from Operating Activities
18.12
62.23
(11.52)
Debt/Equity Ratio (%)
0.54
0.41
0.12
RoE %
0.08
0.07
0.09
ROCE (%)
0.10
0.09
0.11
ROI (%)
0.24
0.04
0.09
Abans holdings IPO Details
Abans holdings IPO Details
Abans holdings IPO Details
Abans holdings IPO Date
Dec 12, 2022 to Dec 15, 2022
Abans holdings IPO Price band
₹256 to ₹270 per share
Abans holdings IPO Allotment date
Dec 20, 2022
Refunds Initiation date
Dec 21, 2022
Credit of Shares to Demat Account
Dec 22, 2022
Listing Date
Dec 23, 2022
Fresh Issue
3,800,000 shares of ₹2
up to ₹102.60 Cr
Offer for Sale
9,000,000 shares of ₹2
up to ₹243.00 Cr
Equity Shares outstanding prior to the Offer
4,63,45,950 Equity Shares
Minimum bid (lot size) for Retail investor
715 Shares
Maximum investment ₹193,050
Minimum bid (lot size) for Retail investor                                                   
55 Shares
Minimum investment ₹14,850
Face Value
INR 2 per share
Listing on
BSE & NSE
Abans holdings IPO Allotment Status
Abans holdings IPO allotment status will be available on BIGSHARE SERVICES PRIVATE LIMITED website. To know your allotment status, get ready with your PAN number and click on this link. You may also reach out to Telephone: +91 – 22 – 6263 8200 and E-mail:ipo@bigshareonline.com to get a details of Abans holdings IPO Allotment Status.
Abans holdings IPO GMP
| | | |
| --- | --- | --- |
| Date | Abans holdings IPO GMP | IPO Price |
| 08-12-2022 | -14 (negative premium) | 270 |
| | | |
| | | |
| | | |
| | | |
Abans holdings IPO Lead Managers and Corporate Contacts
Contact Details
Lead Managers
25, Mittal Chambers, 2nd Floor,
Barrister Rajni Patel Marg,
Nariman Point,
Mumbai – 400 021
Telephone: +91 – 22 – 6179 0000
Email: compliance@abansholdings.com
www.abansholdings.com

1. Aryaman Financial Services Limited