What is DCX Systems Limited?
DCX Systems Limited was incorporated as 'DCX Cable Assemblies Private Limited' in Bengaluru, Karnataka in 2011. The company changed its name to "DCX Systems Limited" in February 2022 as planning to come with the IPO. Learn DCX Systems IPO date and price in another post here.
The registered and corporate office of 'DCX Systems Limited' is Aerospace SEZ Sector, Hitech Defence and Aerospace Park, Bengaluru, Karnataka, India.
The company is one of the leading companies in India in the aerospace and defense industry that manufacturers electronic sub-systems, cable & wire harness assemblies, and kitting.
DCX Systems Limited operate a single facility in Hi-Tech Defence that is situated over an area of 30,000 square feet. The complete revenues of the company are generated from this facility.
Who are DCX Systems Limited Key Customers?
As of December 31, 2021, the DCX Systems Limited has 26 customers in Israel, the United States, Korea, and India including OEMs, private companies, and public sector undertakings. The clients also include certain Fortune 500 companies, multinational corporations, and start-ups. DCX Systems Limited products cater to the industries such as defense and aerospace, space ventures, railways, etc. Name some key customers to include
Elta Systems Limited,
Israel Aerospace Industries Limited,
Bharat Electronics Limited,
Astra Rafael Comsys Private Limited,
Alpha-Elsec Defense and Aerospace Systems Private Limited,
Alpha Design Technologies Private Limited,
Astra Microwave Products Limited,
Kalyani Rafael Advanced Systems Private Limited,
SFO Technologies Private Limited
DCX-Chol Enterprises Inc.
DCX Systems Limited is one of the largest Indian Offset Partners for ELTA Systems Limited and Israel Aerospace Industries Limited, System Missiles and Space Division, Israel, for the Indian defense market for the manufacture of electronic sub-systems and cable and wire harness assemblies.
What are DCX Systems Limited Products?
The company operates across the entire spectrum of strategic defense and aerospace electronics solutions. DCX Systems Limited operates in the segments below
Cable Harness and Wiring – the company manufactures build-to-print and customized Cable & Wire harness assemblies for Aerospace and Defence Industries.
System integration, and Kitting.
The company engages in System Integration in areas of electronic warfare, Radar, Sensors, Surveillance, Missiles, and communication systems.
Kitting segment includes ready-to-assemble kits.
The company undertakes all aspects of procurement including controlled storage of moisture-sensitive devices to customers in the aerospace and defense industries.
Within these segments, DCX System Limited generates the highest revenue from System Integration and Cable Harness. The company is planning to focus on this segment in the next four years from 2022 to 2026 to get 75% of the total revenue from this segment. The DCX system is also expecting to get around 12% of its total revenue from Defence Electronics Manufacturing Services during this period.
DCX Systems Limited Founders and Leadership team
The company is run by experienced Promoters and a qualified senior management team with significant experience in the aerospace and defense manufacturing industry.
Dr. H.S. Raghavendra Rao is the founder Chairman and Managing Director of the company since January 16, 2012. He has over two decades of experience in electronics manufacturing and the defense and aerospace sectors. Dr. Rao has over 21 years of experience in the electronics manufacturing sector and aerospace sector. Before finding the company, he was associated with Vinyas Innovative Technologies Private Limited as a whole-time director. International Peace University, Germany has conferred him with an honorary doctorate in business management.
Neal Jeremy Castleman is the founder and director of the company. He is Non-Independent and Non-executive Director. Mr. Neal has significant experience of over two decades in the field of electronic manufacturing sectors. He holds a bachelor of science degree– Chemistry from the University of Southern California. Mr. Neal has been associated with DCX-CHOL Enterprises as a director since 1997.
Suggested Reading on company insights Nykaa, mamaearth, Signature global, Hexagon Nutrition Pvt Ltd, Deltatech Gaming.
DCX Systems Limited Financial snapshot
The company's revenue from operations has grown at a CAGR of 46.22% between Fiscal 2019 and Fiscal 2021. DCX Systems has a strong order book to be executed by FY 2024. The order book has increased from INR 10,423.01 million in FY 2019 to INR 28,550.18 million in FY 2021. As of February 28, 2022, the company's order book was INR 24,992.98 million to be executed in FY 2023 and FY 2024.
DCX Systems Limited reported a total income of INR 6832.42 million in FY 2021 as compared to INR 4652.29 million for FY 2020 recording a growth of 47%. However, compared with FY2019 revenue of INR 3090.7 million, the company incurred a profit of 121% in FY2021. Total expenses have gone up from INR 3017.67 million in FY 2019 to INR 6434.36 million in FY 2021. The company registered a positive profit after tax over the period considered here. The profit after tax in FY2019 was INR 45.86 and has increased by 544% to reach INR 295.58 million in FY2021. This reflects the performance of the company from the operation. Fundamentally DCX Systems Limited looks strong to invest.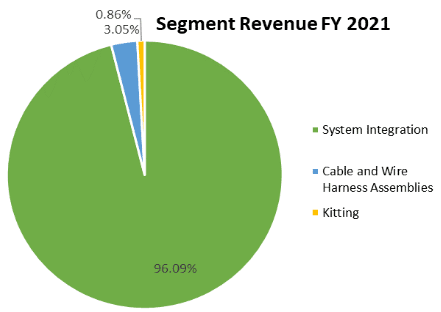 What is DCX Systems Limited turnover?
The EPS has gone up from 0.66 in FY2019 to 4.22 in FY2021. The debt-equity ratio has gone down significantly from 29.8 in FY 2019 to 4.2 in FY 2021. Similarly, all other parameters such as the return on investment, ROCE, and Return on Net worth look strong. Looking at the numbers below one can invest in the company's IPO if the valuation is good.
All amounts in INR Million
(Year ended March 31)
2019
2020
2021
Total income
3,090.70
4,652.29
6,832.42
Total Revenue from Operation
2,998.72
4,492.62
6,411.63
Total expenses
3,017.67
4,523.62
6,434.36
Profit after tax
45.86
97.44
295.58
Earnings Per Share-Diluted
0.66
1.39
4.22
Net Cash from Operating Activities
1,211.41
1,300.28
1,139.81
Debt-Equity Ratio
29.83
15.44
4.21
Return on Equity Percentage
61.54
56.75
63.18
Return on Capital employed
8.69
19.19
4.16
Source: DHRP document file by DCX Systems Limited
Suggested Reading on company insights Signature global, Hexagon Nutrition Pvt Ltd, Deltatech Gaming.
Company Strategies and outlook
DCX Systems India Limited is one of the preferred Indian Offset Partners for the defense and aerospace industry with global accreditations. The company has a strong order book till 2024. The company has strong execution capabilities. This has enabled the Company to develop long-term and entrenched relationships with OEM customers. This is reflected in the growth of the company with revenue from the operation growing over the years.
In India, specialization, integration, and sub-component manufacturing are being outsourced to the private sector. There are significant opportunities for the private sector to play in India. The company has been collaborating with OEMs in Israel and United States in areas such as radars, electronic warfare, missile systems, sensors, and communication systems. This will further strengthen the system integration operations of the company. The company is further planning to expand the cable and wire harness assembly business operations to better serve the requirements of global customers.
DCX systems are also planning to focus on adjacent industry verticals like EMS and Maintenance, Repair, and Overhaul services. The Indian EMS Industry is likely to grow from US$ 400 million in FY 2019 to US$ 4,400 million in FY 2025 at a CAGR of around 49.1%. The Indian MRO market will also grow by a CAGR of 9% from 2022 to 2030. There are significant opportunities for the company to grow domestically and globally as well. Investing in the company in the long term is a good decision.
Tired from daily activities, take a break for outing. Go on holiday, search for a destination here.