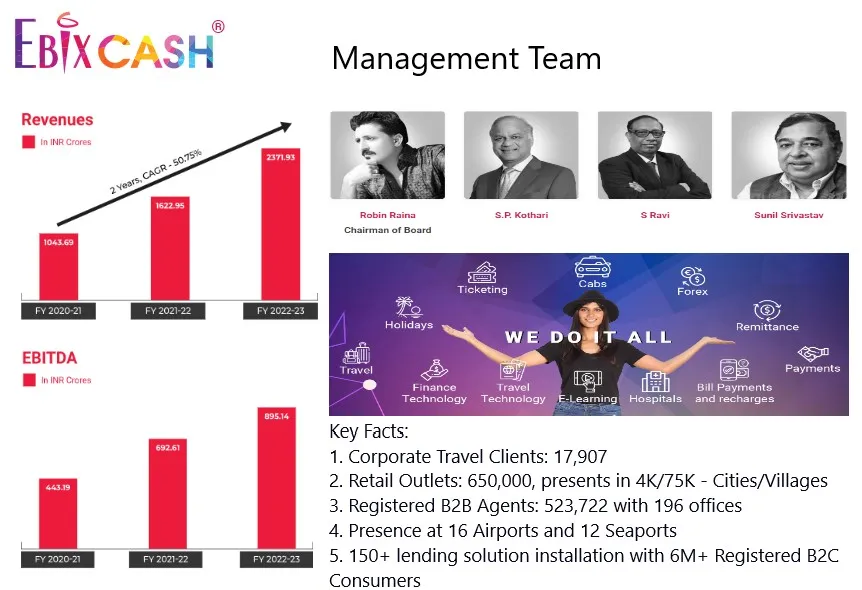 Ebixcash IPO Details Benefits – You need to understand the company's fundamentals, financials, and future growth prospects before investing in the Ebix IPO India. Even after the Ebixcash Share price is listed on the exchanges, should you invest? Let us find out.
Ebixcash IPO Details: Key Facts
Ebixcash is one of India's largest end-to-end financial exchanges.
It has a last-mile network of over 650,000 physical distribution outlets besides an omni-channel online digital platform.
Ebixcash filed a Draft Red Herring Prospectus (DRHP) filing: March 9, 2022.
IPO opens date from —, ———, 2023 to ———, ——–, 2023
IPO listing date ——————-
EBIXCASH IPO Price: ———— per share
Face value of EBIXCASH IPO share price: ₹ 1
Strong revenue track record over the last three years. Revenue from operation has increased from Rs1043 Crore in FY2021 to Rs 2371 crore in FY2023.
The company has a presence across the globe with 196 offices in multiple countries in all the regions such as Asia Pacific, Americas, Europe, Middle East.
With B2B and B2C offerings, the company offers multiple product suites through a 'Phygital' Model combining lacs of offline outlets/agents with digital accessibility for consumers.
Good management with a vision to create an MNC out of India.
Ebixcash IPO Details
Ebixcash IPO Details
Ebix IPO date,
Price and other details
Ebix IPO Date
–
Ebixcash IPO price range
₹- to ₹- per share
Ebix IPO India Allotment Status and date
–
Refunds Initiation date
–
Credit of Shares to Demat Account
–
IPO share listing date
–
IPO Fresh Issue
₹6,000 Cr
IPO Offer for Sale
– shares of ₹-
(aggregating up to ₹[.] Cr)
IPO lot size
Minimum bid For retail investor
1 lot of – shares
Total Investment of ₹ –
IPO Share Face Value
INR 1 per share
Ebixcash IPO Listing on
BSE, NSE Exchange
Share holding pre issue
–
Ebix IPO Date and other Details
Ebixcash IPO Review
Ebixcash filed DRHP for an initial public offering on March 9, 2022. According to DRHP, this IPO consists of a fresh issue of ₹ 60,000 million. There is no offer for the sale in this IPO issue. The company also came up with an updated DRHP with financial updates.
Should I invest in the Ebixcash IPO? Before deciding, it is important to understand the company and its business model to get a clear idea to make an investment decision.
Ebix IPO India Business Description
Ebixcash is India's largest end-to-end financial exchange, which includes a last-mile network of over 650,000 physical distribution outlets besides an Omni-channel online digital platform. The company provides digital products and services in the B2C, B2B, and financial technology arena through an integrated business model.
Ebixcash offers products in India and over 75 international jurisdictions under two categories such as (i) front-end focused domestic and international money remittance, foreign exchange ("Forex"), pre-paid gift cards, utility payments, Aadhaar Enabled Payment Services ("AEPS") services, PoS services, ticketing services; and (ii) back-end focused SaaS and self-hosted solutions for the financial sector including lending and wealth management operations.
The company operates its business under four segments

Payment solutionsTravelFinancial technologies

Business processing outsourcing (BPO) services and start-up initiatives.

Over 10,431 employees across different sectors with 196 offices across the Asia Pacific region.
It has distribution outlets spread over 4,000 cities and 75,000 villages.
The company has over 650k retail outlets in India for payment solutions.
Its services cover 75000 Villages in 4k cities in India.
Ebixcash Subsidiaries
The Company has 25 subsidiaries, of which 10 are our direct subsidiaries and 15 are indirect subsidiaries. The direct subsidiaries of the company are Ebix Travels Private Limited, Ebix Technologies Private Limited, Ebix Vayam Technologies Private Limited, EbixCash Mobility Software India Limited, EbixCash Global Services Private Limited, Ebix Payment Services Private Limited, Ebix Capital Exchange Private Limited, Ebix Money Express Private Limited, Ebix Paytech Private Limited, and EbixCity Private Limited
Ebixcash Clients

Ebixcash Leadership team
Ebix Singapore Pte. Ltd. and Ebix, Inc. are the promoters of the EbixCash company. Ebix Singapore Pte. Ltd. holds an aggregate of 939,751,460 Equity Shares comprising 100.00% of the paid-up equity share capital in the company. The board of directors of Ebix Singapore comprises Robin Raina and Yip Cheng Choon.
Mr. Robin Raina is the Chairman of the Board of EbixCash. Guruprasad T C (KMP) is the Director at EbixCash and Managing Director – EbixCash Payment Solutions Division.
Ebixcash Competitor Analysis
There are no listed entities in India whose business portfolio is comparable with that exactly matches EbixCash's business. However, the close competitors of the company in one or more of its business segments are PayTM in the listed arena while PhonePe and MobiKwik are in unlisted companies.
Ebixcash Revenue and Profit
The company has a track record of growth in revenue and profits. Between Financial Years 2021 and Financial Years 2023, the revenue from operations grew from ₹ 11,869.69 million to ₹ 26,166.65 million. The profit after tax grew from ₹ 2,431.73 million to ₹ 7,513.87. The EPS also grew from ₹ 2.54 in the Financial Year 2021 to ₹ 7.96 in the Financial Year 2023. The company has diversified customer base signifies its non-dependence on any single customer and thereby hedges its business operations from potential customer-specific risk.
Ebix IPO India Financial Information
| | | | |
| --- | --- | --- | --- |
| Period Ended | 31 Mar 2021 | 31 Mar 2022 | 31 Mar 2023 |
| Assets | 6,734.70 | 7,184.55 | 7,733.70 |
| Revenue | 1,043.70 | 1,622.95 | 2,371.93 |
| Profit After Tax | 230.31 | 482.09 | 751.31 |
| Net Worth | 4,014.90 | 4,498.97 | 5,136.53 |
| Reserves and Surplus | 4,014.66 | 4,404.99 | 5,042.56 |
| Total Borrowing | 1,516.13 | 1,426.16 | 913.23 |
Ebix IPO India Financial Information Amount in ₹ Crore
Objective Behind the Ebixcash IPO India
EBIXCASH IPO will raise the gross proceeds of Rs 60,000 million from the Fresh Issue
The company is planning to invest Rs10,350.26 million to fund the working capital requirements of its Subsidiaries, Ebix Travels Private Limited and EbixCash World Money Limited.
Ebixcash will invest Rs 27,475.67 million for the purchase of outstanding compulsorily convertible debentures from Ebix Asia Holdings Inc, Mauritius.
The rest amount will be used to fund its plan for strategic acquisitions and investments and general corporate purposes
Ebixcash IPO review: Do you invest?
EBIXCASH has Experienced Promoters and a senior management team.
The company has a Robust financial performance over the last five years.
Scalable and Asset Light Business Model supported by the expansion plan.
The company is raising funds through IPO to strengthen its subsidiaries, which will further boost its revenue.
Strong brand name with a presence across the globe and there is no major direct competitor in India.
The company is also planning to expand its operation through selective acquisitions, and joint ventures.
Indian economy is expected to be over US$ 5 trillion by 2030.
There are good opportunities for the company to play a strong role in Indian economic growth over the next decade.
It is wise to keep an eye on this company once it is listed on the exchanges.
Ebixcash IPO Allotment Status & Lead Managers
Lead Manager
Registrar (Allotment Status)
Motilal Oswal Investment Advisors Limited
Equirus Capital Private Limited
ICICI Securities Limited
SBI Capital Markets Limited
YES Securities (India) Limited
Link Intime India Private Limited
E-mail: ebixcash.ipo@linkintime.co.in
Tel: +91 22 4918 6200
EbixCash IPO India: Company Contacts
EbixCash India
101, First Floor, 4832/24, Ansari Road
Darya Ganj, New Delhi – 110 002
Delhi, India
Email: investors@ebixcash.com
Tel: +91-120-4688400
www.ebixcash.com
Purnima Nijhawan
Company Secretary and Compliance Officer
EbixCash IPO GMP
Grey Market is an unregulated market where the upcoming IPO applications and IPO shares trade before listing of the stock. An investor may get an idea of the IPO GMP just to understand the post listing position of the IPO share. Thia may be used to estimate the listing gain on the IPO share. GMP or Grey Market Premium adding to issue price gives the estimated listing price of the IPO share or the under current price of that IPO. This should not be treated as a criteria to value or decide a company for the IPO to invest in.
The EbixCash IPO GMP is Rs 115 and the IPO price of EbixCash IPO is Rs –. That reflects the Ebix IPO India share is likely to be listed at Rs — per equity share. However, EbixCash IPO GMP is just an indicator of the price, the actual price may vary on the listing day.
More From Across our Website
We endeavor to help you to understand different aspects of a company before you invest in the company's IPO. Learn all company insights for investment in new companies in the Indian share market 2023. To know more information about company insights for investment, business overview of companies for investment, here are some suggested readings on company insights for investment –10 Best IPOs in 2022, Tata Motors Stock Price, Tata Play IPO, Upcoming IPOs, Upcoming SME IPOs, Tesla Stock Price, Tata Technologies IPO.
mind2markets is in news
Feedstop has mentioned mind2markets website as one of the best site to provide stock analysis and insights about the company to invest in. Keep in touch.
Please comment for any suggestion on the above article.