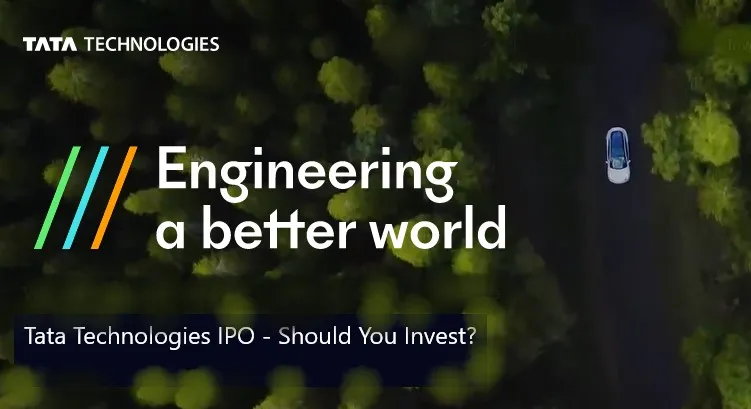 Tata Tech IPO Date and Details
Tata Technologies IPO Details

Another Tata Group Company to be Public
Fundamentally Strong Company to invest in the IPO
Tata Technologies IPO Size is 60,850,278 Equity Shares
This is Complete Offer for sale (OFS)
Tata Tech IPO Share Face Value: ₹2 per share
Tata Tech IPO Date: November 22, 2023 to November 24, 2023
IPO Subscription Price ₹475 to ₹500 per share
IPO Allotment date: Thursday, November 30, 2023
Tata Tech Stock listing date: Tuesday, December 5, 2023
Tata Technologies IPO Date Review and Other Details – Tata Motors (NSE: TATAMOTORS) will spin out its technology unit as tata technologies with a complete offer for sale. The stock will be traded in BSE and NSE.
Tata Technologies is coming out with an offer for sale of 60,850,278 Equity Shares with a face value of ₹2 each. The company has filed a preliminary paper with SEBI to float the IPO on 9th March 2023. You can find the company  DRHP document with market regulator SEBI here.
Tata Technologies IPO Date Review Price Details
Tata Tech IPO Details
Tata Tech IPO Date,
Price and others
Tata Tech IPO Date
November 22 – 24, 2023
IPO Price band
₹475 to ₹500 per share
IPO Allotment date
Thursday, November 30, 2023
Refunds Initiation date
Friday, December 1, 2023
Credit of Shares to Demat Account
Monday, December 4, 2023
Tata Technologies IPO Listing Date
Tuesday, December 5, 2023
Fresh Issue
Nil
Offer for Sale
60,850,278 shares
of ₹2 each
Lot Size
30 Shares
Minimum bid Retail investors
(Lot size/ Amount)   
30 share / lot
(Total Investment of ₹15,000)
Maximum bid Retail investors
(Lot size/ Amount)  
390 share / 13 lot
(Total Investment of ₹195,000)
Face Value
INR 2 per share
Listing on
BSE & NSE

Tata Technologies IPO – Business Description
Tata Technologies is one of the leading global engineering services companies that offers product development and digital solutions to global original equipment manufacturers ("OEMs") and their tier 1 suppliers. The company has strong domain expertise in the automotive industry and manufacturing sectors.
Tata Technologies offers its services and solutions to clients in aerospace and transportation and construction heavy machinery worldwide.
The company operates in two segments

Services segment that includes providing outsourced engineering services and digital transformation services to global manufacturing clients.

The technology Solutions segment primarily includes resell of third-party software applications, primarily product lifecycle management ("PLM") software and solutions.

The services segment contributes 75.12% in FY2022 while the technology solution business contributes 24.88% in the same year.

Strong patronage – Tata Group, a well-recognized business group in India, is the parent group of Tata Technologies Limited.
Well diversified global client base across the region with 25.76%, 23.94%, 22.27%, and 28.03% of its revenue coming from clients in India, Europe, North America, and the rest of the world respectively by December 2022.
In FY2022, the company Electric Vehicle Modular PlatformTM (eVMPTM) and Pulse NPI platform helped OEMs as well as startups to launch competitive products faster.
The company has 18 global delivery centers with 11,081 employees by December 2022.
The Company has eleven (11) subsidiaries.

Global Engineering, Research, and Development (ER&D) Market
According to a survey by Deloitte conducted in the year 2022, India continues to be the ER&D destination of choice with over 70 percent of organizations with India ER&D presence planning to increase spending towards their India GCCs and ESPs.
According to Zinnov, a market research company, the global engineering, research, and development (Global ER&D Market) is expected to grow to approximately $2.28-2.33 trillion by 2025. The ER&D spend outsourced to third-party service providers is forecast to grow at a 10-12% compound annual growth rate ("CAGR") between 2021 and 2025.
This growth is primarily driven by the growth in the ER&D market in the automotive market due to increased regulatory interventions for safer and cleaner products, shrinking product innovation cycles, and next-generation product technologies that includes autopilot and connected vehicles, electrification, and shared ("ACES") technologies, etc.
Focus on smart manufacturing, reducing product development time and cost, connecting the digital thread, and enhancing customer experience will further enhance the growth of this industry.
Tata Technologies Limited Leadership
TATA Motors is the promoter of Tata Technologies. Alpha TC Holdings Pte. Ltd. and Tata Capital Growth Fund I are the investor of this company who is also selling a part of their stakes in the company in this OFS.
Mr. Warren Kevin Harris is the Chief Executive Officer and Managing Director of the company. Ajoyendra Mukherjee is the Chairman and Independent Director of the Company.
Tata Technologies IPO Review – Company Revenue and Profit
On a Consolidated basis, the Group recorded an increase in revenue from operations by 48.24%. The Revenue from operations increased to ₹3,529.57 crore during FY2022 compared to ₹2380.91 crore in FY2021.
| | | | | |
| --- | --- | --- | --- | --- |
| All amounts ₹ in million | March 31 | March 31 | March 31 | Dec 31 |
| Some Statistics | 2020 | 2021 | 2022 | 2022 |
| Total Income | 28,520.55 | 23,809.11 | 35,295.80 | 30,117.94 |
| Profit After Tax | 2,515.67 | 2,391.73 | 4,369.91 | 4,074.67 |
| EBITDA | 5,153.64 | 4,305.36 | 6,944.64 | 6,187.89 |
| Total Asset | 2,572.97 | 3,572.74 | 4,218.00 | 4,640.68 |
| Net Cash from Operating Activities | 2,673.80 | 11,128.90 | (386.79) | 2,702.68 |
| Total Net Worth | 1,852.60 | 2,142.15 | 2,280.16 | 2,752.83 |
The revenue from the sale of services increased by 38.44% to ₹2654.84 crore in FY2022 compared to ₹1917.74 crore in FY2021 while technology solutions revenue increased by 88.62% to ₹873.61 crore compared to ₹463.16 crore during the same period.
Objective Behind the Tata Technologies IPO
This initial public offering is completely Offer for Sale (OFS), hence the Company will not receive anything from the net proceeds.
However, the company will achieve the benefits of listing the Equity Shares on the Stock Exchanges.
This will also enhance the visibility and brand image as well as provide a public market for Equity Shares in India.
Why invest – Tata Technologies IPO Analysis
Tata Technology is a pure-play manufacturing-focused ER&D company.
The company primarily focused on the automotive industry.
With strong domain expertise, the company was positioned in the "leadership zone" by Zinnov Zones for ER&D services ratings in 2022 for the sixth consecutive year.
Strong revenue growth and strong parentage of TATA Group.
The above points interest me to invest in the Tata Technologies Limited IPO for the long term.
Tata Technologies Office and Lead Managers
Contact Details
Lead Managers
Tata Technologies Limited
Plot No. 25, Rajiv Gandhi Infotech Park,
Hinjawadi, Pune 411 057
Phone: +91 20 6652 9090
Email: ipo@tatatechnologies.com
Website: http://www.tatatechnologies.com/
1. Jm Financial Limited
2. Citigroup Global Markets
India Private Limited
3. Bofa Securities India Limited
More Across from our Website
We endeavor to help you to understand different aspects of a company before you invest in the company's IPO. Learn all company insights for investment in new companies in the Indian share market 2023. To know more information about company insights for investment, business overview of companies for investment, here are some suggested readings on company insights for investment –10 Best IPOs in 2022, Tata Motors Stock Price, Tesla Stock Price Prediction 2025, Highest Dividend paying stocks, 5 best upcoming IPOs in India.
Tata Tech IPO allotment will be available on Link intime Limited website. To know your allotment status, get ready with your PAN number. Email – tatatechnologies.ipo@linkintime.co.in, Phone: +91-22-4918 6270