Tata Motors Stock Price Key Highlights

One of the TATA Group companies
Pioneer in Electric Cars market in India
Financial performance of the company has improved over the last quarter
Tata Motors passenger vehicles in Q4 FY23 were at 135,654, which was higher by 10% as compared to Q4 FY22
My target of this stock to reach 1000 in one year
Tata Motors stock price is showing bullish in the daily and weekly charts. The tatamotors stock price is moving up with support from strong volume for the last 7 trading sessions. Fundamentally, tatamotors is a good company to invest in for the medium to long-term. In the medium term, the stock price target can be 500 – 550. In the long term, tata motors' share price target will be 1000 – 1200 by 2025.
Tatamotors has been in news for quite some time due to its frequent launch of new and varieties of car models. Tata Motors has planned multiple unveils and launches in 2023 such as Tata Altroz Racer, Tata Altroz CNG, and Tata Punch CNG.
The best model of the company "Nexon" sold 5 lakh units in India reflecting the growth of the company. The global wholesales of Tata Motors passenger vehicles in Q4 FY23 were at 135,654, which was higher by 10% as compared to Q4 FY22. This includes sales of its flagship Jaguar Land rover vehicle.
The sale of Jaguar Land Rover stood at 107,386 vehicles. Jaguar wholesales for the fourth quarter of 2023 were 15,499 vehicles, while Land Rover wholesales for the quarter were 91,887 vehicles.
The global brokerage firm Goldman Sachs has predicted the tata motors' stock price to reach a target of 550 in the short run. Other brokerage firms such as Nomura and CLSA have also given buy recommendations on Tata Motors stock for targets of Rs 508 and Rs 544, respectively.
Foreign brokerage Jefferies is bullish on Tata Motors stocks and recommended buying with a 600 target.

Tata motors stock price prediction 2025 with technical analysis
The stock has given a break out with a golden crossover pattern in the daily chart at about 424 level which is eventually a strong resistance level for the technical chart. Once the stock price closes above 550 with strong volume, it will reach a new high may be 1000 level in one year. Buy at every dip, below the 450 level is a good buy for this stock. The auto sector is expected to perform well in 2023 – 24 with the recovery of the US and European countries.

With a market cap of ₹ 1,66,431 Cr., Tata motors stock price currently trades at 7.4X P/E on FY25 estimates compared to the mean. Tatamotors share price is trading at 5.91 times its book value. In the technical chart, tata motors share price trading volume is above its 100 DMA during the last 6 trading sessions. It seems the counter is ready to move up sharply. Tata motors stock price prediction 2025 will be Rs. 1000.
Tata motors stock price target 2025 with Fundamental Analysis
Tata Motors, often known for its high performance and value for money, is one of the best manufacturers of passenger cars and commercial vehicles in India and globally as well. TML Group Automotive business is segmented into Tata Commercial Vehicles, Tata Passenger Vehicles, Jaguar Land Rover, and Vehicle Financing (Tata Motors Finance).
The company retailed a total of 44,044 passenger vehicles in the country, including 6,509 electric vehicles for March 2023. Tata has recorded a growth of four percent as compared to 42,466 vehicles in FY2023 compared to the same period last year.
Tata Motors is among the world's leading manufacturers of automobiles and offers innovative mobility solutions to its customers across 125 countries. The company is also the pioneer in electric vehicles in India.
Tata Motors is one of India's largest OEMs offering an extensive range of integrated, smart, and e-mobility solutions with over 9300 sales and service points in the country.
Mr. Natarajan Chandrasekaran is Chairman of the Board of Tata Sons, the holding company and promoter of more than 100 Tata operating companies.
The company sold 9,54,626 units of the vehicle in FY2023 against 7,29,148 units in FY2022. Most of its sales are generated by domestics.
The revenue of the company has increased from Rs 72.2K Crore in Q3FY2022 to Rs Rs 88.5K Crore in Q4 FY2023.
EBIT improves YoY and QoQ. EBIT has gone up from 1.7% (Rs 1204 Crores) in Q3FY2022 to 4.4% (Rs 3885 Crore) in Q3FY2023. However, the Net Auto Debt of the company is still at Rs.57.5 KCr YTD FY2023. The net debt has gone up from Rs. 40.9KCrore in FY2021 to Rs 48.7KCrore in FY2022.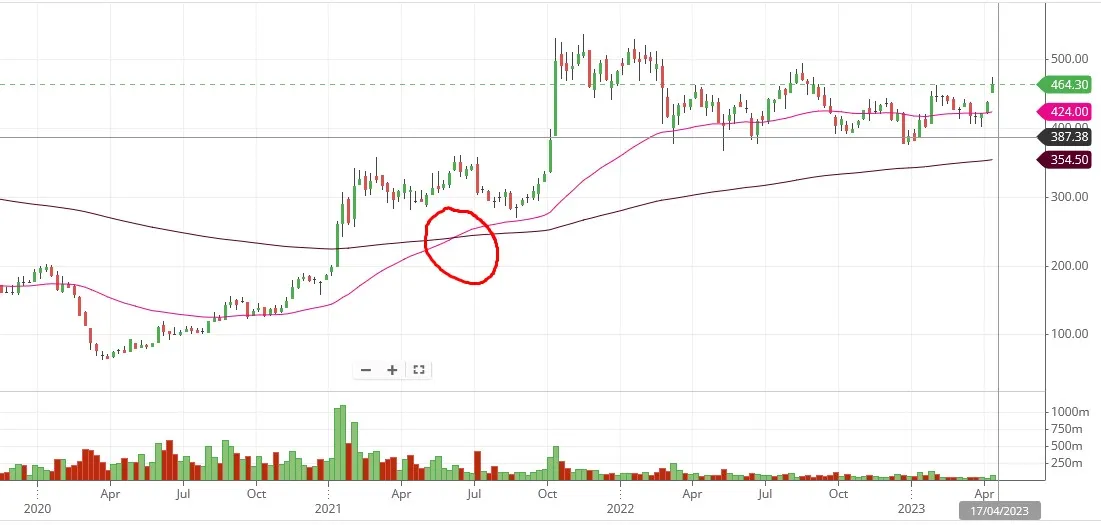 Final Word
TATAMotors is often compared with global auto maker Tesla because of its early entry advantage in the electric vehicle market. The Indian government has targets to increase EV adoption in the next decade. Tata Motors have been coming up with new models of an electric vehicle with better technology in the country. The company is planning to split its group company "Tata Technology" as a separate entity, coming up with "Tata Technology" IPO. That will unluck value for this company.
The company has come up with many new and attractive models that changed the perception of Tata passenger cars among car owners. This gives me confidence about Tatamotors share price for long-term investment.
More From Across our Website
We endeavor to help you to understand different aspects of a company before you invest in the company's IPO. Learn all company insights for investment in new companies in the Indian share market 2023. To know more information about company insights for investment, business overview of companies for investment, here are some suggested readings on company insights for investment –10 Best IPOs in 2022, Concord Bio IPO, Tata Play IPO, Upcoming IPOs, Upcoming SME IPOs.