Etoro Platform Review 2023
In the fast-paced world of online trading, finding the right platform can be a daunting task. With a plethora of options available, it's essential to choose a platform that not only meets your needs but also ensures a secure and user-friendly experience. eToro is one such platform that has gained widespread recognition in recent years. In this eToro review, we will delve into what you need to know about this platform, including how to buy Bitcoin on eToro, options trading in eToro, and how to buy stocks in eToro.
eToro platform reviews
eToro platform is one of the best trading platforms that I have used. eToro platform is a multi-asset platform that offers 3,000+ financial instruments across various classes, such as stocks, crypto, and more. eToro is an integrated platform that offers instruments such as trading in Bitcoin (BTC), Ethereum (ETH), Amazon shares, Tesla, Apple, Nio, Fx trading, etc. While doing eToro Platform review, I was excited looking at all the features that it is offering.
eToro platform opens up markets to everyone, with an easy-to-use, intuitive interface. One can create a demo account to practice to get the confidence to trade.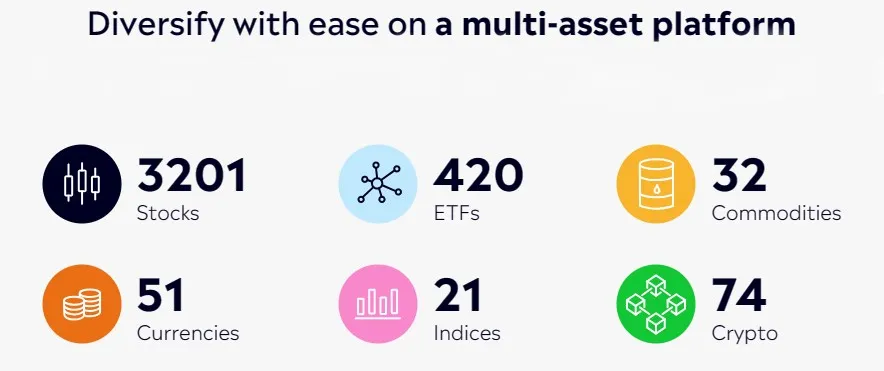 How do I set up my free demo account?
Log in to the eToro platform or create an account for free
Access the demo account by selecting Virtual Portfolio from the menu under your username
Now you can practice trading live markets in real time without risking any capital
eToro Platform Fees: Is eToro free?
Yes, join eToro for free. any registered user receives a $100,000 demo account for free.
Open the free account without any management fee
No management fees
No rollover fees
No ticket fees
No additional broker fees
FX fees apply on non-USD deposits and withdrawals
$5 fee for withdrawals
There is also a $10 monthly inactivity fee after 12 months with no login activity.
eToro does not charge a minimum trade or ticket fee on any of its asset types.
Example of the Cost of buying Apple stocks on Etoro
Open BUY (Long) position
Initial Investment: 1,000 USD
Apple Stock (AAPL) Ask Rate 250 USD
Position Open 4 Units
AAPL BUY
Commission: NO
Overnight Fees: NO
Total Fees: 0 USD
eToro Review: Why I use the Trading App eToro
Why one should use the trading app Etoro. Before using a trading platform, we are checking if the trading platform meets your expectations. While doing etoro review, we will find out how the eToro Platform meets your expectations.
User-Friendly Interface: One of the standout features of eToro is its user-friendly interface. Whether you are a seasoned trader or a newbie, the platform is designed to cater to your needs. The intuitive design and user-friendly dashboard make it easy to navigate through various features and assets.
eToro CopyTrading: eToro's unique selling point is its "Copy Trading" feature, which allows users to follow and automatically copy the trades of experienced investors. This feature is especially beneficial for beginners who can learn from the experts and potentially replicate their success.
Regulatory Compliance: eToro is a regulated platform, which is an essential consideration for any investor. The platform is subject to oversight by financial authorities in multiple countries, providing users with a level of trust and security.
eToro Demo Account: For those who are new to trading, eToro offers a demo account that allows you to practice trading with virtual funds. It's an excellent way to get a feel for the platform and its features without risking real money.
Educational Resources: eToro provides a wealth of educational resources for options trading, including webinars, articles, and video tutorials to help traders understand this complex financial instrument.
eToro community and eToro club: While doing etoro review, we found one of the best feature of the platform that is eToro community and club. The eToro Academy is your expert resource for trading courses, webinars, and tutorials. The key differentiator is its community of traders and investors. eToro is a bustling online social network of traders who interact, discuss ideas, and share their trading decisions and strategies on the social news feed.
Trading across all the asset classes: Using the eToro platform one can trade cryptocurrencies, Stocks, Commodities, Currencies, etc.
Insurance coverage: eToro provides eligible customers with free insurance available for Platinum + and Diamond Club customers of eToro (Europe) Ltd. and eToro AUS Capital Limited suffering losses due to the unlikely event of eToro's insolvency. This is one of the best feature we found while doing etoro review.
As cryptocurrencies gain more prominence in the financial world, many people are looking for a safe and easy way to invest in digital assets like Bitcoin. eToro simplifies the process of buying Bitcoin, making it accessible to anyone, even if you're new to the world of cryptocurrency.
Sign Up: To get started, you need to create an eToro account. The process is straightforward and requires you to provide some personal information.
Verify Your Identity: Like any other regulated platform, eToro requires users to complete a Know Your Customer (KYC) verification process. You'll need to provide some identification documents to ensure compliance with financial regulations.
Fund Your Account: Once your identity is verified, you can fund your eToro account. You can do this by depositing funds via various payment methods, including credit cards, bank transfers, and e-wallets.
Search for Bitcoin: After funding your account, you can search for Bitcoin on the platform. eToro offers a wide range of cryptocurrencies to choose from, so you can easily find Bitcoin in the list of available assets.
Place Your Order: When you've found Bitcoin, you can place your order. eToro offers various order types, including market orders, limit orders, and stop-loss orders. You can select the one that suits your trading strategy.
Monitor and Manage Your Investment: Once your order is executed, you can monitor the performance of your Bitcoin investment in real time. eToro provides various tools and charts to help you make informed decisions.
How to buy Ethereum on Etoro
Login to your eToro platform account and fund your account.
Search for Ethereum on the platform and click on trade.
Place Your Order and monitor.
How to buy Tesla stock on Etoro
One of the questions that many beginners asking is how to buy Tesla stock on Etoro. Trading Tesla stock on eToro is easy. If you have access to the stock trading platform, you can directly go to the Tesla stock page and start trading. The important part here is to understand the Tesla stock and take the risk of trading.
While doing eToro review, we noticed the best part of the eToro platform that makes the life of traders easy with stock analysis and recent news along with charts at the same place where you can trade the stock. You can have a look at that information before trading Tesla stock.
Options Trading on eToro Platform Review
In addition to buying and holding assets, you can also work on options trading on eToro, providing traders with a more complex and versatile set of investment strategies. Options trading involves trading contracts that give you the right (but not the obligation) to buy or sell an asset at a predetermined price on or before a specific date.
Here are the key points to know about options trading on eToro:
Options Contracts: eToro offers options contracts on a variety of assets, including stocks, indices, and commodities. You can choose from different expiration dates and strike prices.
Risk Management: Options trading allows for effective risk management. You can use options to hedge existing positions or speculate on price movements.
How to Buy Stocks on eToro is again related to the questions that beginners always ask. eToro's offering isn't limited to cryptocurrencies and options. It also provides users with the opportunity to invest in a wide range of stocks from around the world. Whether you're interested in tech giants like Apple and Amazon or want to explore opportunities in international markets, eToro has you covered. Let us find out how to Buy Stocks on eToro?
Search for the Stock: To buy stocks on eToro, you can search for the specific company or asset you're interested in. eToro offers a diverse selection of stocks from various sectors and regions.
Analyze and Research: Before investing in a stock, it's essential to perform your due diligence. eToro provides a range of tools and resources for stock analysis, including financial reports, historical data, and community insights.
Place Your Order: Once you've decided on the stock you want to buy, you can place your order. eToro allows you to invest in stocks with as little as $50, making it accessible to a broad audience.
Diversify Your Portfolio: eToro encourages diversification, and you can build a diversified portfolio by investing in various stocks, cryptocurrencies, and other assets.
eToro Platform reviews by real users
In this eToro review, we've explored the platform's user-friendly interface, its unique "Copy Trading" feature, regulatory compliance, and the ability to buy Bitcoin, trade options, and invest in stocks. eToro's commitment to providing a secure and accessible trading environment, along with its innovative features, makes it an attractive choice for both novice and experienced traders.
eToro is a versatile platform that offers a range of investment opportunities, but it's important to approach it with a well-thought-out strategy and risk management in mind. We noticed that eToro Platform reviews by real users experience has given strong positive voice supporting the platform. The eToro trading platform got 5 stars for its utilities.
Customers voted 5-star for its platform because of its simple and slick website, excellent customer service, and support from the manager. Traders in the eToro community are also very knowledgeable. The eToro platform is an excellent trading platform for its customers. Happy trading!!!
Reach out to us for related services.
More From Across our Website
We endeavor to help you to understand different aspects of a company before you invest in the company's IPO. Learn all company insights for investment in new companies in the Indian share market 2023. To know more information about company insights for investment, business overview of companies for investment, here are some suggested readings on company insights for investment –10 Best IPOs in 2022, Tata Motors Stock Price, Tata Play IPO, Upcoming IPOs, Upcoming SME IPOs, Tesla Stock Price, Tata Technologies IPO.