While discussing about the Expert View on the Indian Stock Market, it is important to understand the last few years performance and current performance of the India Stock market. As we approach the end of the last quarter of FY 2022-23, this question is on the mind of many retail investors. With the tumultuous events of the past year, predictions for the future of the Indian stock market are difficult to make. However, market experts from all over the world have weighed in on the potential outlook for 2023. In this blog post, we explore their thoughts and opinions on the state of the Indian stock market in 2023.
After a market crash in 2020 during the Covid-19 breakout, the Indian stock market has given a stellar performance over the years from 2020 to 2022. Both the key indices NIFTY 50 and BSE Sensex reached their all-time highs in early December 2022 when it Nifty reach 18700 on a closing basis.
What Spoiled the Party?
Crude oil prices increased due to the war between Russia and Ukraine. Rupee weaken, Covid-19 induced global supply chain challenges. These factors raised inflation well beyond the consumer price index (CPI) inflation of 4% within a band of +/- 2% range set by the Reserve Bank of India. This raised the key repo rate to 6.5% in February 2023. The global economy is also slowing down as central banks of major countries have continued to raise interest rates.
However, the Indian stock market has been continuing to perform well due to strong economic parameters on the ground. The Indian economy is fundamentally looking strong. Earnings are likely to be strong and hence the stock market performance in 2023 second half may be good.
Expert View on the Indian Stock Market
"While the global outlook seems rather tough, the Indian economy is set to stay on steady ground, helped by strong domestic demand, a healthy financial sector, and improved corporate balance sheets. Early signs of brighter prospects of Rabi crops point towards a robust performance of agriculture, leaving an improved second round effect for several connected industries like FMCG, tractors, two-wheelers, specialty chemicals, and fertilizers," Assocham Secretary General Deepak Sood said to Zee business.
Market experts believe that the performance of the stock market will remain volatile in 2023. As per an interview with ET, V Srivatsa, Executive VP & Fund Manager – Equity, UTI AMC, says "Market performance will be more driven by earnings outlook and valuation depending on the growth prospects".
Domestic Investors at the Center Stage
India's greatest strength lies in its domestic consumption. The youth population and large working population with higher disposable incomes are boosting business confidence. There is plenty of opportunities for growth and investment at present and likely to multiply every passing year. Expert View on the Indian Stock Market is positive for long term due to the increasing interest of Domestic Investors in the equity market.
While near-term impact due to global issues could persist and induce volatility, investors with a horizon of at least two to three years would be well rewarded, believes Tejas Khoday, the co-founder and CEO of FYERS.
As Jitendra Gohil, Director- Investment Management, Wealth Management India, Credit Suisse says in an interview with ET, "On the India front, we think that macroeconomic fundamentals in the medium term remain very strong. Any correction, probably another 500 points or so in Nifty could offer a buying opportunity. Overall, our house view is that in the first half, we might see some kind of correction and some kind of consolidation but in the second half, there could be a good recovery,"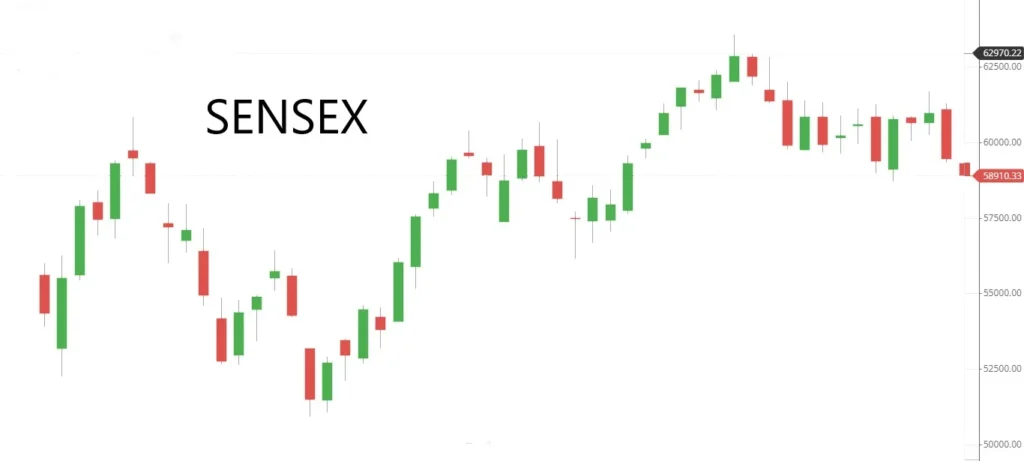 Stock market performance in 2023
The stock market can be a volatile place, and it can be difficult to predict the future direction of the markets. However, what market experts are saying is that India's stock market is showing signs of strength and could be poised for growth in the near term. Despite global economic volatility and geopolitical tensions, the Indian stock market has remained resilient, with indices such as the S&P BSE Sensex, Nifty 50, and Bank Nifty all hitting record highs in 2022. Let us see the expert opinion on the Indian stock market.
What Expert Opinion on the Indian Stock Market in 2023?
Market experts are cautiously optimistic about the future of the Indian stock market in 2023. According to experts, the Indian market is well-positioned for a solid return in the coming years, but some risks must be taken into consideration.
Though the Indian stock market is volatile, the outlook for 2023 looks promising. Hiren Dasani, managing director at Goldman Sachs Asset Management said to India time, "…. in the medium term, India will do much better because of the compounding opportunity of growth."
Overall, many experts predict that the Indian stock market will see strong growth over the next few years. Factors such as economic recovery and increased investor confidence have given them confidence in a solid recovery in 2023.
The Indian stock market in 2023 is the year of accumulation in the equity market. "We believe that this will be the year of accumulation for equities across the globe as volatility is likely to persist as markets are yet to factor in higher longer interest rate scenarios," according to the interview given to ET, Kunal Valia, Chief Investment Officer – Listed Investments, Waterfield Advisors.
However, the current market environment is still uncertain and volatile, and experts have cautioned against too much optimism in the near term. They have suggested that investors should focus on diversifying their portfolios and investing in long-term assets to protect against any potential market corrections.
Which sector will perform better?
Though experts warn that some sectors may see more volatility than others in 2023. Technology and banking stocks are expected to do well due to continued innovation and growth, while energy stocks could remain weak due to uncertain global demand and pricing.
Banking is certainly one of those sectors which will be driving the earnings growth in Indian stock market in 2023, along with some of the other financials, like insurance. So I would imagine that within the financial space, banking, insurance and to some extent, housing finance are where I should still be significantly overweight in the portfolio," says independent analyst Anand Tandon to ET
Final Word
In short, while the future of the Indian stock market in 2023 remains uncertain, market experts are generally confident in its potential for long-term growth. Investors should remain mindful of potential risks and use diversification and careful research to make sure they are making the best investments for their future.
Stock market analysts believe that it is important to invest with caution to minimize risk. Additionally, it is important to take an active role in monitoring your investments, as stock prices can fluctuate quickly and unexpectedly. Analysts also believe that it is important to be patient when it comes to investing in the stock market since sudden surges in stock prices can often be unsustainable. Long-term investing is often seen as the most reliable path toward achieving steady returns on investment.
It is important to keep an eye out for new opportunities and trends since these can often be a great source of profits. Finally, stock market analysts believe that having an understanding of basic financial concepts can help you navigate the stock market with greater success in Indian stock market in 2023.
"India has proven itself as an emerging economy with an abundance of potential growth ahead. The continued modernization of India will result in increased investor confidence and an attractive investment opportunity in 2023," said one analyst.
More Across from our Website
We endeavor to help you to understand different aspects of a company before you invest in the company's IPO, India IPO Trends 2023, New Companies in the Indian share market 2023. To know more information about business overview of each company, here are some suggested readings on company insights for investment – 10 Best IPOs in 2022, Tata Play IPO, Upcoming IPOs, Upcoming SME IPOs.