LAOPALA share price nse technical view – LAOPALA share price nse is showing bullish chart patterns. LAOPALA is one of the best companies to invest in right now. Technical analysis of the stock is reflecting bullish price momentum with strong volume. Fundamentally, it is a good company to invest in for medium to long-term. The stock is trading within the range of 52-week highs, which is the best momentum indicator.
Key Highlights of LaOpala RG Share Price Prediction

LAOPALA share price is expected to break out soon,
Once the stock closed above 422 levele with strong volume, it will reach its all time high of 450 level.
LAOPALA Stock looks bullish now with a golden cross over at 355 level and head and shoulder breakout at 373 level.
LAOPALA RG is fundamentally good company.
This company is also part of ace investor Ashish Kacholia's Portfolio
This is right time to buy and hold for medium term.

LAOPALA share price (LAOPALA) looks strong in its technical chart with strong trading volume over the last few trading sessions. The trading volume of the script is above 100 DMA during this period. It seems the counter is ready to move up sharply. LAOPALA share price is consolidating in a range of 413 to 420 with strong volume. Eventually, this is the 52-week high of the stock.

Once LAOPALA share price crossed the previous swing high at the 440 level with strong volume, it will create a new all-time high. Again, LAOPALA share price is trading above all its short and long-term moving averages on the daily chart. It formed a golden crossover in the daily chart at the 370 level. Buy at this level or on Dip for long-term gain.
LAOPALA Stock price forecast
LAOPALA share price is looking strong in the weekly chart with strong volume over the last weeks. LAOPALA share price looks strong for both short- and long-term investments at this level. The stock is just above its weekly previous swing high of 425 level. Once it closes above it, for the short to medium term, LAOPALA share price target in 2022 can be above 500.
Momentum indicators RSI, ADX, and MACD of LAOPALA share price are looking bullish on the daily chart. One may buy on dips for a 10 to 20% gain in the short term. LAOPALA share price is trading at 52.4 Price to Earnings (PE) and available at 6.18 price-to-book (PB) value. Zero-debt company with a debt-to-equity ratio is 0.02 in FY22. The fundamentals of the company with a low debt-to-equity ratio make it attractive.
LAOPALA: Description of the Business
LAOPALA is the leading tableware manufacturer in India. The company was founded in 1988 by Mr Sushil Jhunjhunwala. The company is fundamentally strong with a lot of experience in the industry.
The company is one of the fastest-growing tableware manufacturers in India with headquartered in West Bengal, India.
LAOPALA products can be categorized with brands such as DIVA, La Opala, and Cook Serve Store Borosilicate.
India's most fashionable opalware brand – Diva – ranks among the finest tableware brands in the world.
Presence both online and offline sales category
As per the latest quarterly report, LAOPALA reported strong YoY revenue growth from INR 37 crore in June 2021 to INR 83 crore in June 2022.
The company reported strong QoQ growth from INR 82 crore in June 2022 to INR 134 crore in Sept 2022.
Net profit has also increased from INR 20 crore in June 2022 to INR 39 crore in September 2022.
QoQ EPS of the company has also gone up from 1.81 in June 2022 to 3,52 in September 2022
YoY PAT has gone up from INR 8.86 crore in June 2021 to INR 20 crore in June 2022.
Return on capital employed is ~17.4 percent.
Return on equity is ~13 percent in FY22.
Promoter shareholdings remain constant at 65.64% from September 2021 to September 2022.
DIIs have increased their skate from 15.08% to 15.21% during the same time.
However, FIIs decreased their stake from 6.14% to 4.67% during the same time.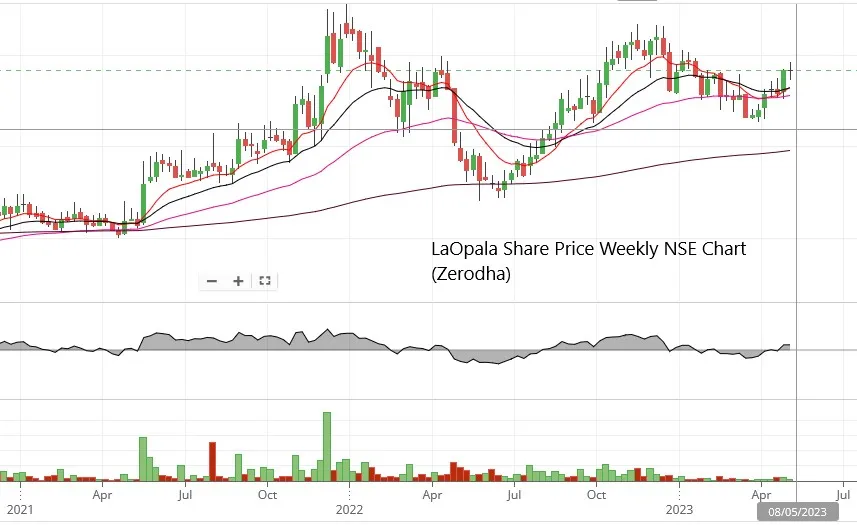 This is just for informational or educational purposes, not for investment advisory.
More from across our site
We endeavor to help you to understand different aspects of a company before you invest in the company's IPO. Here are some suggested readings on company insights BIBA Fashion Limited IPO, SSKL IPO, Mankind Pharma IPO.