Nykaa Company and its operation:
Nykaa Company Review – Mumbai-based Nykaa company founded on April 24, 2012, by Falguni Nayar as FSN E-Commerce Ventures Private Limited. The company manufactures owned brand beauty and personal care products through third-party manufacturers. The products sold under the brands such as "Nykaa Cosmetics", "Nykaa Naturals" and "Kay Beauty". The company operates both online and offline channels, as well as for certain brands at third-party retailers. Nykaa also sells beauty products of other brands.
As of March 31, 2021, the company has 197,195 Stock-keeping units from 2,476 brands. Garments and accessories consist of 1,350 brands with fashion products across four consumer divisions: women, men, kids, and home. The company provides a multi-channel shopping experience on both online and offline shopping platforms. Nykaa's offline channel consists of 73 physical stores spread across 38 cities in India. The company also operates through 9 Subsidiaries across the globe.
Nykaa Key products and services:
The Company sells branded products online through a platform. The products mainly categorized under skincare, makeup, luxury products, fragrance, hair care, bath, and body products for men and women. Online sales enable customers to choose from a wide range of offers and discounts on all beauty, makeup, and wellness products across the brands. Monthly Active Users of the platform are approximately 5 million in Oct 2020. The company also claims monthly orders of about 1.5 million at the same time.
Nykaa Subsidiaries :
First, Nykaa E-Retail Private Limited sells beauty, hygiene, and wellness products.
Second, FSN Brands Marketing Private Limited engaged in the business of importing, purchasing, selling and distributing beauty and wellness, personal care, health care, skincare, hair care, and other related products through retail outlets, general trade, and modern trade.

Third, Nykaa Fashion Private Limited is in the business of selling and distributing fashion garments and fashion accessories on online and offline platforms.
Fourth, FSN International Private Limited sells beauty, wellness, health care, skincare, hair care, and other related products through e-commerce, m-commerce, internet, stores, stalls, etc.
Fifth, FSN Distribution Private Limited sells beauty, hygiene, and wellness products through its distribution network to wholesalers and retailers using online and offline channels of sales.
Sixth, Nykaa–KK Beauty Private Limited engaged in the business of manufacturing, selling & distributing 'Kay Beauty' products.

Seventh, Dot & Key Wellness Private Limited engaged in the business of manufacturing, marketing, branding, and sale of skincare, personal care, and nutraceutical products, including serums, toners, cleansers, face masks, face creams, and meltable.
Eight, FSN Global FZE engaged in the business of trading in perfumes, cosmetics, beauty, personal care, skincare, hair care, and beauty and personal care products and equipment.
Ninth, Nykaa International UK Limited engaged in the business of retail sale of cosmetic and toilet articles in specialized stores.
Nykaa Company Management:
Ms. Falguni Nayar is the founder CEO, Executive Chairperson & Managing Director of the Company. She holds a post-graduate diploma in management from the Indian Institute of Management, Ahmedabad. Falguni has over 26 years of experience in e-commerce, investment banking, and broking. She is one of Asia's Power Businesswomen, 2019 by Forbes Asia, and named Businessperson of the Year, 2019 by Vogue India.
Ms. Adwaita Nayar has been a co-founder and Executive Director of the company since July 1, 2021. She also serves as the chairperson and chief executive officer of Nykaa Fashion. She holds a bachelor's degree in applied mathematics from Yale University. Adwaita also has a master's in business administration from Harvard Business School.
Mr. Anchit Nayar is an Executive Director of the Company since July 1, 2021. He also serves as the chairman and chief executive officer of Nykaa E-Retail. Anchit holds a bachelor's degree from Columbia University. He joined FSN Brands in 2018 as the chief executive officer and has overseen the expansion of retail Nykaa stores.
Financial snapshot:
| All amounts in INR Million (Year ended March 31) | 2019 | 2020 | 2021 |
| --- | --- | --- | --- |
| Total Income | 11163.82 | 17778.5 | 24526.37 |
| Total Expenses | 11481.02 | 17902.8 | 23772.99 |
| Restated profit / (loss) after tax | -245.39 | -163.4 | 619.45 |
Source: DHRP document file by Nykaa with SEBI
Nykaa's total consolidated revenue from the operation has increased by 37.96% from INR 18 billion in FY2020 to INR 24.52 billion in FY2021. The total income increased by 59.25% from INR 11.16 billion in FY2019 to INR 18 billion in FY2020 as well. The Company reported a consolidated net profit after tax of INR 0.616 billion in FY2021 as against a net loss after tax of INR 0.23 billion in FY2020. Nykaa has been incurring loss for last two years for the year 2019 and 2020 due to Covid luck down.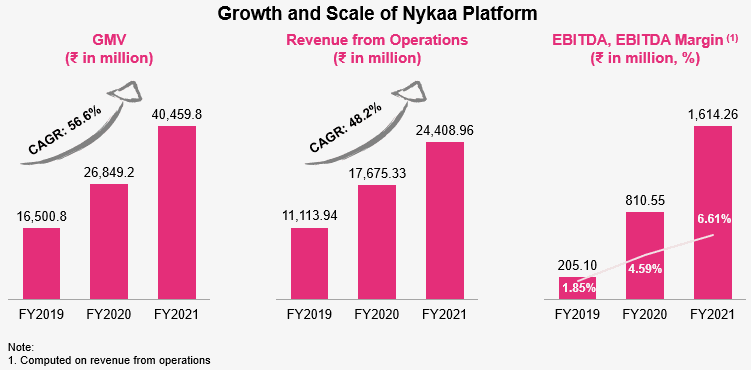 Funding Activities in Nykaa:
Nykaa has recently completed its IPO with an offer for sale and a fresh issue. The company raised INR 5250 million from the fresh issue of equity shares through this IPO. Nykaa is planning to Invest INR 350 million in its subsidiaries and to the set-up up new retail stores. The company is also planning to invest INR 350 million towards capital expenditure, and INR 1300 million in repayment, or prepayment, of outstanding borrowings. Nykaa is also planning to invest INR 2000 million to enhance the visibility and awareness of the brands.
Industry Outlook:
The company has a large market opportunity aggregating $152 billion / INR10.6 trillion in the growing beauty, personal care, and fashion industry by the year 2025 in India. The Indian beauty and personal care market are also expected to grow to approximately $28 billion/INR 2 trillion by the year 2025 from ~$14 billion/ INR 1.1 trillion in the year 2020.
Nykaa Company Growth Strategies:
The beauty and wellness industry will grow strong across the globe including in India. The economy is opening up in India and across the globe. The e-commerce and retail industry will also grow strong. Nykaa have strong opportunities to capture the market. The company knew the right way to get into the minds of the target audience and retain the customers. Nykaa is targeting a specific segment of the customers especially the students and professionals who do not have enough time to go to the physical shop for marketing or beauty services.
The company conducts or participates in a beauty contest to attract customers to its brands. It also promotes its products through coupon codes or discount sale. Nykaa is planning to enter into new segments such as men's grooming and inner ware segments. However, the company is considered to be a beauty product company caters to the need of the women. Hence, it is to be seen if the new segments perform well.
Major Investors in Nykaa:
Major investors in Nykaa are TPG Growth, Stead view Capital, Michael Carlos, Dalip Pathak, TVS Capital Funds, Atul Nishar, Harsh Mariwala, Sunil Munjal, Sunil Kant Munjal, Max Ventures and Industries Ltd, and Ravi Mehta.
Top competitors of Nykaa:
Nykaa faces competition mainly from companies who are into fashion, beauty and personal care products with both online and offline sales channels. The major competitors are purple.com, mamaearth.in, myntra.com, thebodyshop.in, and lakmeindia.com. VLCC health care is also a competitor in beauty and personal care products. Further, VLCC healthcare is coming up with IPO. You can refer here for more on VLCC healthcare IPO.
Nykaa company competitive Strengths:
This company is one of India's leading specialty beauty and personal care companies. Many brands associated with Nykaa offer their products on the Nykaa platform for sale. In addition, the company follows an asset light business model while working on franchises. In conclusion, the management team is efficient and experienced to take the company to a new level.
Nykaa company competitive Weakness:
However, the company is poor in customer rating. According to various customer review channels, consumers are complaining about Nykaa's irresponsive customer care and return request problems. Customers are dissatisfied with their purchase from Nykaa.
The Nykaa share price has not performed well since it debuted on the Indian exchanges. Nykaa share listed in BSE and NSE on 10th November 2021 at INR 2009 level and closed higher at INR 2202 level with a 10% gain. However, the Nykaa share has been in a down trend since 1st December 2021. Nykaa share reaches its lowest level at around INR 1300 level on 22nd February 2022. Since then, the stock has consolidated within a range of 1300 to 1500 with strong resistance at 1530 and strong support at 1337 level.
Since its debut in exchanges, Nykaa share is not performing well. The stock has been trading at its lower range for the last four months with a support at 1314 level and resistance at 1473 level. Currently it is down 40% from its all-time high.
The valuation of the Nykaa share is high

As per the fundamentals in ZERODHA the stock is trading at 1,519.16 PE and price to book value 46.39 while the sector PE is 53.51 and price to book value of sector is 5.24.
ROCE is low at 6.87% while ROE is 4.49% in FY 2022.
EPS on standalone basis declined to reach 2.22 in FY 2022 from 24.38 in FY 2021
The company reported a fall of 49% in its quarterly net profit in Q4FY22.
DII has selling their holdings in the stock from 3.13 in March 2022 to 2.96 in June 2022.
Only positive factor is FIIs holding which has increased from 5.98 in March 2022 to 6.54 in June 2022.
Nykaa share price will not move up until it show strong profit both quarterly and annually and improve from valuation front.
Technically, the Nykaa share is looking poor and is in falling channel. It is trading at its support.
Both in weekly and Daily chart, we did not witness any significant volume for last four months which reflects lack of interest of investor on the counter.