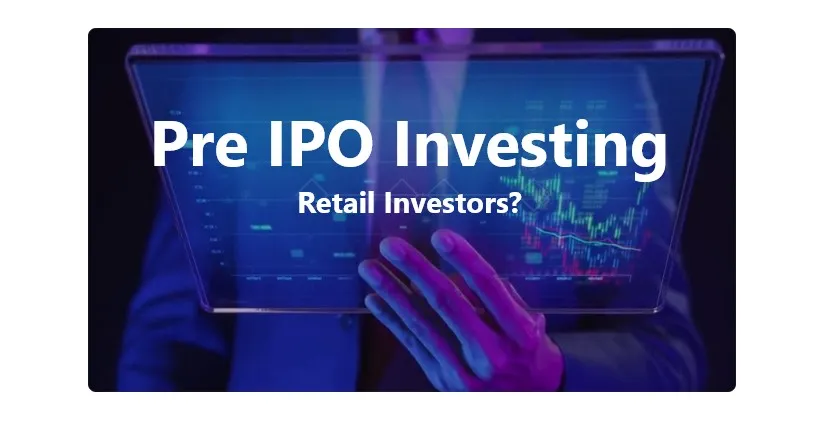 Pre-IPO investing (pre-Initial public offering stage) means investing in companies at the pre-IPO stage. At this stage, investors invest in companies for several months or years before the company became publicly listed company. In this way, investors will get a company equity share at a cheaper rate than a listed company. Once the company comes up with Initial Public Offering (IPO), an investor may exit or sell its shares to other investors at a better valuation.
Pre-IPO investing has become a new investment norm now. This is a well-known concept in the USA and other developed countries. In India, it is a relatively new concept for retail investors. In recent years, startups are getting sufficient funding to grow their business. This is evident from the growing number of SME IPOs listed on exchanges. Again, it is expected that SME IPOs will do better in 2023 in India. Since startups can grow their business much faster than before due to the easy availability of funds, their valuation grows before IPO.
Usually, private equity firms, venture capitalists, and angel investors provide funding to startup companies. Off late, retail investors, High Net worth Individuals, and NRIs are also able to invest in pre-IPO companies. Indian IPO market has witnessed strong demand for good companies. Many IPOs in India get oversubscribed by 30x-50x. In that scenario, retail investors do not get shares during the IPO process. After the company is listed in the exchanges, pricing is generally get overvalued. Most of the time retail investors buy it at a high valuation.
Why buy pre-IPO Stocks
More and more companies are coming up with IPOs now to fund their growth. Investing in pre-IPO stocks is challenging. However, the growth potential of these companies is very high. The valuation of these private companies is lower compared to the listed ones. Many times, ultra-growth companies remain private for a long time. Once they come for listing, the valuation increases multi-fold. Retail investors miss the ride of this growth story. It is a good opportunity for retail investors, particularly for high-net-worth retail investors to invest in pre-IPO companies.
Identifying pre-IPO companies
Identifying a company to invest in is the critical part of any investment, it may be an Initial Public Offering or equity or Pre-IPO. The most important of any investment is to understand the company. Learning Company insights for investment is an important step to start.
As an investor in the equity market, the most important part of your work is to identify companies that have been doing good over the last 5 years or so. In the case of Pre-IPO companies, the risk is higher than the listed companies. Pre-IPO companies do not announce detailed financial results as in the case of listed companies. These companies are privately run and are not bound by the SEBI regulation in terms of the declaration. Hence, the risk to invest in these companies is higher.
There are many ways to identify companies in the case of Pre-IPO investing. The best way to invest in Pre-IPO companies is to choose a mutual fund. Kotak pre-IPO opportunities fund, SBI Mutual Fund, and Axis Mutual fund are a few such funds to be invested.
As a first step identifies the sector that you understand better. Sectors such as energy, the Electric vehicle segment of the auto industry, and Clouds are expected to better in the future. Identify the emerging companies within that sector. The companies which are bringing new and disruptive technology to the market will do better in the future. The best way to get these companies is Daily News. Keep in touch with the related news happenings in that industry.
Learn about Promoters of the Pre-IPO companies
Once you identify a few companies, let us get deeper into those companies before investing. Many startup companies are led by experienced entrepreneurs. They have good knowledge about the industry and business. They can run the business very well as their reputation is also attached to the performance of the company. A strong management team is the most important factor for a successful company. Investing in these pre-IPO companies will benefit retail investors to get into a business early which is run by a strong management team.
Look for the Business Model of the Pre-IPO companies
With a lower valuation, pre-IPO stocks also come with lots of risks. Many companies perform very well during the initial years but failed to perform once they are listed or exposed to competition from larger companies. Hence, it is important to understand the business model of the company before investing in pre-IPO stocks.
Companies with a strong business model would be rewarded immensely when it goes public. Investing in pre-IPO companies helps to take advantage of strong growth without having to wait for an IPO. Companies like Droneacharya Aerial Innovations and Zen Tech performed very well even after they were listed on the exchanges because of their unique business model.
SBI Mutual fund and Axis Mutual fund invested in MTAR Technology pre-IPO offering at a price of Rs540 per equity share during the February 2021. The company listed in exchanges above Rs 1000 in March 2021 and reached all time high at Rs 2465 in December 2021. Evidently, Pre-IPO stock investing in good companies is highly rewarding.
Understand the Financial performance of the Pre-IPO companies
Financial stability is one of the most important factors of the company. Along with the business model, if the revenue from operation and profit after tax has been increasing, then it is not wise to invest. Understand the financial metrics of the company such as positive net cash flow, return on investment, profit after tax, and debt-to-revenue ratio before investing. If all these factors are positive and are improving over the years, consider investing in those pre-IPO companies for a better reward.
Final Words
Overall, pre-IPO stocks offer a safer return if the business model is good along with a strong management team. One can get higher returns on smaller investments due to their low market value. Along with this, if the financial performance of the company is improving year on year, then buying pre-IPO stock can be a great option for you. You must research the company and gather all information about a business to analyze if the company is worth investing in. It is important to understand the growth potential of the company and the risk factors involved before putting in your hard-earned cash.
More From Across our Website
We endeavor to help you to understand different aspects of a company before you invest in the company's IPO. Learn all company insights for investment in new companies in the Indian share market 2023. To know more information about company insights for investment, business overview of companies for investment, here are some suggested readings on company insights for investment – 10 Best IPOs in 2022, Concord Bio IPO, Tata Play IPO, Upcoming IPOs, Upcoming SME IPOs.