Cloudpoint Technology Bhd, will start its debut on the ACE Market of Bursa Malaysia on May 29, 2023. The company is planning to raise RM40.4mil from its initial public offering (IPO) to fund its expansion plans.
CloudPoint Technology Berhad IPO Statistics
IPO Price – (RM) 0.38
Fund Raised (RM million) – 40.40 from new issue and 20.20 from offer for sale
Total Issue size: (RM million) 60.60
Enlarged issued share capital upon listing (million shares) – 531.60
IPO Market Capitalisation (RM million) – 202.01
Price Earnings Ratio (PER) – 15.38x
Object of the Proceeds of CloudPoint Technology Bhd IPO
The company is planning to spend RM Million 13.30 for business expansion
RM Million 7.80 will be invested to relocate its corporate office
Working capital requirements will be RM Million 15.80
The rest RM Million 3.50 will be spend on listing expenses

CloudPoint Tech Berhad IPO Company Profile
Cloudpoint is an information technology (IT) solutions provider, focusing on enterprise and data centre networking solutions, cybersecurity solutions, professional IT services as well as cloud services and software applications. The Group designs and proposes solutions that are tailored to customers' IT environment, business requirements and needs. It also provides project management, installation and system integration services based on proposed solutions as well as after-sales support in providing professional IT services, which involves maintenance support and network monitoring services.
The Group operates based on 2 main revenue models i) one-off project-based income for the design and implementation of enterprise and data centre networking, cybersecurity solutions as well as cloud services and software applications ii) recurring income for professional IT services business segment which typically comprises annual contract fees and service fees with a contract tenure of between 1 and 3 years as well as cloud management service fee and software licence subscription fees.
CloudPoint Tech Bhd IPO – Financial Sbapshot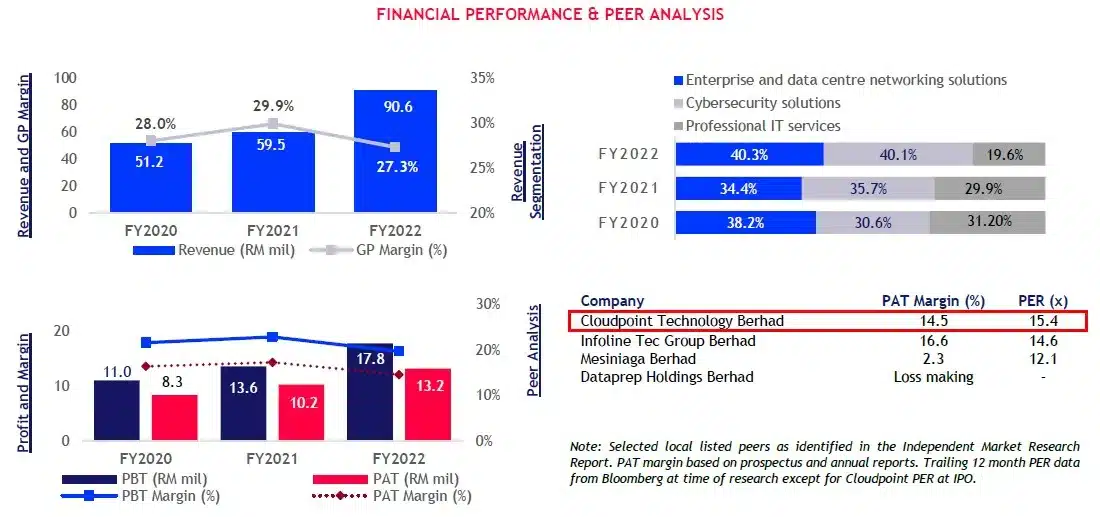 Source of the above data is Bursa Malaysia
CloudPoint Technology Berhad Future Game plan
Venture into providing managed cybersecurity services as part of our professional IT services by setting up a new security operations centre (SOC) which facilitates the monitoring and management of cyber threats and attacks impacting an enterprise's network infrastructure.
Enhancement of existing network operations centre (NOC) by upgrading its network bandwidth, software toolsets, switches, servers and storage to enable the offering of managed network services and enhance its competitiveness in securing managed network services projects.
CloudPoint Technology Berhad is expanding towards of cloud services and software applications segment by collaborating with new and existing Technology Vendors to offer a wider range of cloud services and software applications. The Group also plans to establish its own public cloud infrastructure to provide public cloud infrastructure services to host customers' data.
Competitive Strength of CloudPoint Technology Berhad
Built a track record of serving the financial services, insurance and telecommunications industries in Malaysia which collectively comprised 61.9%, 82.7%, 92.9% and 88.9% of total Group's revenues in the FYE 2019, FYE 2020, FYE 2021 and FYE 2022, respectively.
Wide and complementary range of solutions which allows the cross-selling of its products and serves as a single service provider to its customers.
Built relationships with a well-established network of technology vendors which allow the access to a wide range of hardware and software to create customised solutions.
Experienced and committed senior management team, and technically strong technical services division.
More Across from our Website
We endeavor to help you to understand different aspects of a company before you invest in the company's IPO. Learn all company insights for investment in new companies in the Indian share market 2023. To know more information about company insights for investment, business overview of companies for investment, here are some suggested readings on company insights for investment –10 Best IPOs in 2022, Tata Motors Stock Price, Tesla Stock Price Prediction 2025, Highest Dividend paying stocks, 5 best upcoming IPOs in India.