Key Insights – Fine Organic Industries prospects
Fine Organic Industries is one of the fastest-growing and innovative Specialty companies in India.
Fine Organic is the market leader in oleochemical derivatives, and its capacity for innovation is a significant advantage.
The chemical manufacturing company has reported a 40.7% year-on-year increase in consolidated profit at Rs 149.4 crore for the quarter ended March FY23.
FINEORG stock trades at 23.5 stock PE and with ROE 49.4% and ROCE 65.4%
Is fine organics a good buy now for 3-5 years?
Yes, Fine Organic Industries future prospects is strong with buy at this level for the long term
Is fine organics a good buy now?
In 1970, Mr. Ramesh Shah, a Mumbai-based businessman with experience in chemical trading, and Mr. Prakash Kamat, a skilled technocrat from the Institution of Chemical Technology, founded this company to cater to the surging demand for green chemicals.
The promoters visualized the demand for oleochemical derivatives and created an organization that provides high-quality additives for specialty applications with raw materials from locally-grown plant sources.
Fine organic industries started with the production of food emulsifiers at the company's Dombivli plant. and between 1971 and 1985 Fine organic industries eventually expanded towards oleochemical derivatives to offer varieties of green additives across different applications in different industries.
Within 50 years of its journey, the company became a leading producer of the widest range of additives for foods, polymers, cosmetics, coatings, etc. that are connected to humans in their daily lives.
Fine Organic Industries went public on Jul 02, 2018, with an initial price offering. The company offered shares at an issue price of Rs 783. On the listing date, the Fine organic share price has given a 5% return.
A look back at Fine Organic at the time of its IPO shows that the company had given a meager return, however, after five years of its journey in the bourses has returned a massive of over 455% to its shareholders by May 2023.
The Fine organic share price is trading at Rs 4500 on 24th May 2023 while writing this story. Considering its highest trading point, it is Rs 6977 on 23rd September 2023, which is over 8 times that of its IPO price. Fine organic share price future looks great, you can invest in the company at this stage for the long term.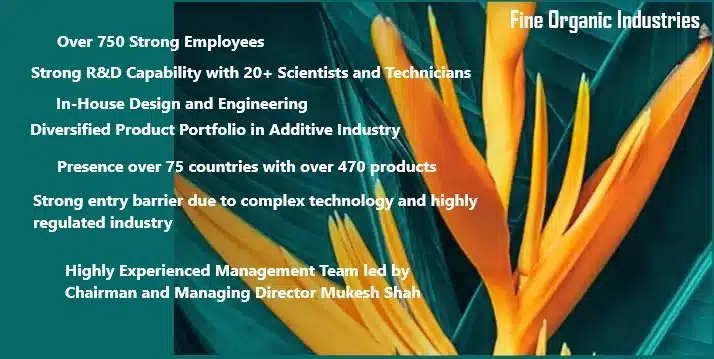 Investors who bought fine organic shares at the time of the company's IPO have done quite well but also would have had to weather through the market slow-down bubble.
Investors who bought Rs 10,000 in fine organic industries IPO could have bought 12.77 FINEORG shares based on the Rs 783 price point.
With the current price at the time of writing this article on 23rd May 2023, Rs 4509, the investment of Rs 10,000 would have now Rs 57,586 which is 5 times the return during the last 5 years. The Fine organic share price future is also looking great. The Fine Organics share price target 2025 can be Rs7000.
Fine Organic Industries is one of the most innovative Specialty Chemical companies
Fine organic industries are one of the finest companies in producing additives for different applications. The company focuses on niche products that can be made in non-hazardous ways. The company has been producing green chemicals since 1970, one of the pioneers in this segment. The company has been doing very well on all fronts, be it financial or R&D, or new product development. Fine Organic Industries future prospects is excellent with its innovation in green chemicals.
FINE additives are majorly bio-based, safe to use, and bio-degradable, offering the most effective benefits through 'Sustainability' combined with excellence in functionality and safety. The company manufactures non-hazardous additives for different industries such as plastics, packaging, foods, cosmetics, rubbers, and coatings.
The company has four fully automated manufacturing plants in India in Dombivli, Badlapur, Ambernath, and Patalganga.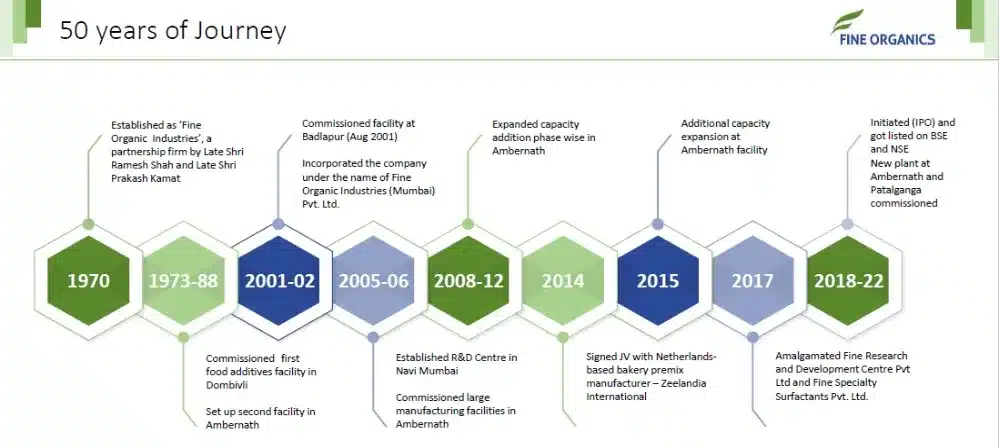 Fine Organic Industries products
The company started with 2 products in 1971 eventually manufacturing over 450 products in 2022. Fine organic offers a new product called Green Surfactants are based on employing oleochemicals derived from plant sources.
Fine organic manufacturing fine chemicals are mostly segmented into 7 categories as below
Food additive includes key ingredients

Emulsifiers
Anti-fungal agents
Improvers for bakery
products
Oil blinder
Anti-crystallizers
Polymer Additives

Lubricants
Anti-fogging additives
Anti-static additives
Anti-scratch
Processing aids
Flow improvers
Slip additives
Dispersants
Cospha Additives

Emulsifiers & Emollients
Green Surfactants
Additives for Coatings

Dispersing agents
Emulsifiers
Wetting & Dispersing
AgentsDefoamers
Anti-Mar additives
Slip additives
Feed Nutrition Additives

Antibiotics replacer
Nutritional additives
Anti-fungal additives
Specialties

Lube additives
Property modifiers
Anti-corrosive additives
Fine Organic Industries financial performance
Fine Organic Industries has a strong track record of growth and profitability. The company has been profitable for over 20 years, and it has grown its revenue at an average annual rate of 15% over the past five years. Fine Organic Industries future prospects in terms of financial performance is looking strong.
The Rs 1,876 cr. company has registered a 21 percent compound annual growth rate (CAGR) in revenues from operations since 2017-18, the year the company was listed in exchanges. The company was also given a 25 percent profit after tax (PAT), with an Ebitda CAGR is 21 percent and Ebitda margins of around 20 percent.
In 2021-22 (FY22), the company recorded its highest year-on-year revenue growth of 66 percent to reach Rs 1,876 crore from Rs 1133 Crore a year earlier. The PAT was Rs 260 crore and Ebitda Rs 349 crore, witnessed 82 percent and 118 percent growth, respectively. Looking at the fine Organic Industries future prospects, one can invest in the company at this level or in dip.
Global Specialty Chemical Market Outlook
The global oleochemicals market is valued at USD 22.5 billion in 2021 and it is estimated to reach USD 35 billion by 2028 driven by the increasing household consumption of oleochemical products. The fast-growing demand for biodiesel as well as the Fast-Moving Consumer Goods (FMCG) industry, are the other driving factors for this market to expand.
APAC region is the major contributor to this industry with over 42% contribution in 2020 while the contribution from APAC is expected to remain the same at around 45% in 2028. The Specialty Chemicals segment comprises 22% of India's total chemicals and petrochemical market. The Specialty Chemicals market in India is valued at USD 32 billion in 2019 and is expected to reach USD 64 billion by 2025 at an impressive of CAGR 12.4%.
The global Food additives market is projected to grow at a CAGR of 5.7% from USD 36.01 Billion in 2020 to reach USD 57.04 Billion in 2028. The Indian food emulsifiers market was valued at USD 104.72 million in 2020, and it is projected to reach USD 180 million by 2028. With the above industry outlook, let us discuss more about Fine Organic Industries future prospects.

Fine Organic Industries future prospects
Looking ahead, the global end-user industry for Fine Organic products is expected to do well. The company is present in over 75 countries worldwide. Fine organic management is also planning to set up a manufacturing plant in the US to fulfill the demand for green chemicals in the region.
Fine Organic Industries is a well-managed company with a strong focus on innovation. The company has a dedicated research and development team that is constantly working to develop new products and improve existing ones.
With consistent product innovations in the industry, the company will benefit from the growing demand for natural products by developing new and better additives. Looking at the demand for green chemicals worldwide, there are strong opportunities for this company to capture the market as an early entrant. The company has been truly going global with a manufacturing plant in the US now and the Fine Organic Industries future prospects looks promising.
What is the future of fine organic stock?
Technically, the fine organic stock looks strong on the daily and weekly charts. The FINEORG stock is consolidating at a range of Rs 4300 to Rs 4500 for over two months and has built a strong base there. The overall chemical industry has not been performing for quite some time due to the slowdown in China, the USA, and European regions. Once the economic downturn is over, these specialty companies will start performing well.
On a daily chart, FINEORG stock is trading near its 50-day moving average. Once it starts closing above its 50DMA, it will move toward its 200DMA. However, it will take a month or so to reach the stock to its 200DMA. The stock will face strong resistance at the 5500 level.
Fine Organic Industries stock has seen a price-wise correction in the last four months. Looking at the price volumes-action, the correction did not witness any high volumes compared to the volume during its uptrend. Hence, it is expected the stock to bounce from this level and touch Rs 5200 to Rs 5500 level in a short period.
Fine Organic Industries (FINEORG) is one of the best stocks in the chemical industry segment in India. The company is a consistent performer in terms of financial return. The stock is trading at its support level now and is expected to bounce from here. It is the right time to buy and keep this stock in your portfolio for the long term.
Prabhudas Lilladher, one of the Indian brokerage houses, is bullish on Fine Organic Industries and has recommended a buy rating on the stock with a target price of Rs 7000 in its research report dated February 14, 2023.
Key Technical Parameters
Market Cap ₹ 13,809 Cr.
Stock P/E 22.3
Book Value ₹ 503
Dividend Yield 0.20 %
ROCE 65.4 %
ROE 49.4 %
Face Value ₹ 5.00
My view on Fine Organics share price target 2025 is to reach reach Rs 7000 level. The Fine Organics share price target 2025 may be higher than this. Once the global economy started improving, the stock price may go beyond Rs 7000 to reach Rs 9000 level by 2030.
Final word
Fine Organic Industries is a leading player in the Indian fine chemicals market. The company has a strong brand name and a loyal customer base. The company has a strong track record of growth and profitability with Rs13,809 Cr. market Cap. With strong, experienced, and clean management, Fine Organic Industries is well-positioned for continued growth in the future. Fine Organic Industries future prospects looks strong and one can look to keep this stock in portfolio.
I hope you got the answer for the questions like if it is fine organics a good buy now? Please keep on commenting on the analysis to encourage us to give you better companies to invest in future.
More From Across our Website
We endeavor to help you to understand different aspects of a company before you invest in the company's IPO. Learn all company insights for investment in new companies in the Indian share market 2023. To know more information about company insights for investment, business overview of companies for investment, here are some suggested readings on company insights for investment –10 Best IPOs in 2022, Tata Motors Stock Price, Tata Play IPO, Upcoming IPOs, Upcoming SME IPOs, Tesla Stock Price, Tata Technologies IPO.