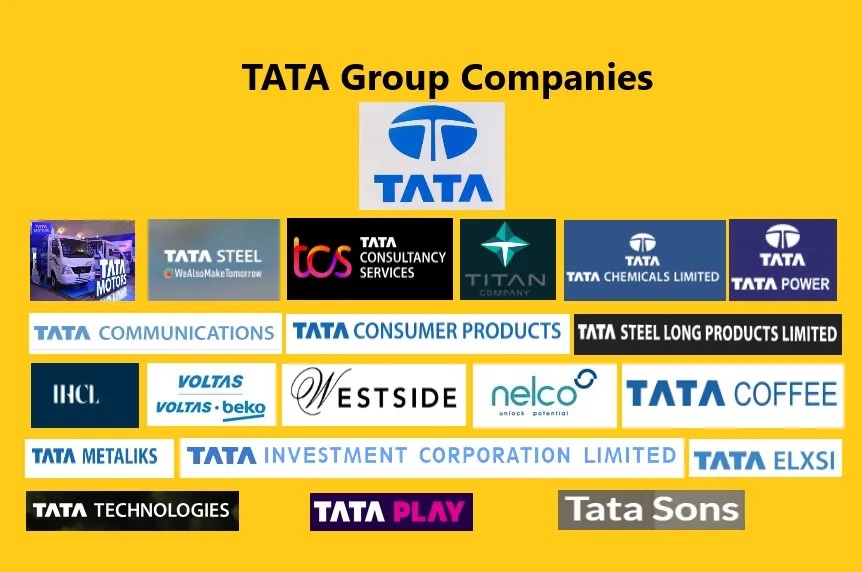 Tata Group Companies List – The TATA Group, one of India's oldest and most revered conglomerates, has left an indelible mark on the global business landscape for over a century. Founded in 1868 by Jamsetji Tata, this conglomerate has consistently expanded its presence across various sectors, including steel, automotive, information technology, hospitality, and more. Today, the TATA Group stands as a symbol of innovation, integrity, and entrepreneurial spirit.
Each Tata company or enterprise operates independently under the guidance and supervision of its own board of directors. There are 29 publicly listed Tata enterprises with a combined market capitalisation of $300 billion (INR 24 trillion) as on July 31, 2023.
In this article, we'll take a closer look at some of the key listed and non-listed tata group subsidiaries (tata group companies list) that contribute to the group's remarkable success.
Tata Group Companies
| Tata Group Subsidiaries | Market Cap (Rs) | Revenue in Cr FY2023 | Listed Or Not | NSE Ticker |
| --- | --- | --- | --- | --- |
| Tata Consultancy Services Limited | 1319655.17 | 225,458 | Listed | TCS |
| Tata Steel Limited | 156802.26 | 243,352 | Listed | TATASTEEL |
| Tata Motors Limited | 233913.05 | 345,966 | Listed | TATAMOTORS |
| Titan Company Limited | 293613.08 | 40,575 | Listed | TITAN |
| Tata Chemicals Limited | 26696.3 | 16,789 | Listed | TATASTEEL |
| The Tata Power Company Limited | 83733.87 | 55,109 | Listed | TATAPOWER |
| The Indian Hotels Company Limited | 59358.53 | 5,809 | Listed | INDHOTEL |
| Tata Consumer Products Limited | 80777.56 | 13,783 | Listed | TATACONSUM |
| Tata Communications Limited | 53776.65 | 17,838 | Listed | TATACOMM |
| Voltas Limited | 28829.99 | 9,498 | Listed | VOLTAS |
| Trent Limited | 73262.41 | 8,242 | Listed | TRENT |
| Tata Steel Long Products Limited | 3686.93 | 7,464 | Listed | TATASTLLP |
| Tata Investment Corporation Limited | 13845.4 | 277 | Listed | TATAINVEST |
| Tata Metaliks Limited | 3028.6 | 3,259 | Listed | TATAMETALI |
| Tata Elxsi Limited | 45498.86 | 3,144 | Listed | TATAELXSI |
| Nelco Limited | 1808.14 | 311 | Listed | NELCO |
| Tata Coffee Limited | 4774.78 | 2,850 | Listed | TATACOFFEE |
| Tejas Network | 13,990 | 919 | Listed | TEJASNET |
| Tata TeleServices Ltd (Maharastra) | 19,265 | 1,106 | Listed | TTL |
| Timken India | 23,335 | 2,806 | Listed | TIMKEN |
| Tata Technologies | | | Non-Listed | |
| Tata Play | | | Non-Listed | |
| Tata Sons | | | Non-Listed | |
tata group companies list
Tata Group Net Worth
According to brand finance INDIA 100 2023 report, TATA group is the most valuable brand in India. The net worth of Tata group of companies (brand value) has grew by 10.3% to reach US$26.4 trillion in 2023 increased from US$23.9 trillion in 2022. Tata Group is the only Indian brand to feature in the top 100 of the Brand Finance Global 500 2023.
In 2022-23, the revenue of Tata companies, taken together, was $150 billion (INR 12 trillion). Collectively, Tata Group companies employ over 1 million people.
Tata Group Subsidiaries
Tata Motors
Tata Motors, the automotive arm of the TATA Group, has been instrumental in driving India's automobile industry to new heights. The company's flagship car, the Tata Indica, revolutionized the Indian passenger car market. With the acquisition of Jaguar Land Rover in 2008, Tata Motors made a significant global footprint, expanding its presence in the luxury car segment. Furthermore, their commitment to sustainable mobility is evident through the production of electric vehicles like the Tata Nexon EV, reinforcing their dedication to environmental responsibility.
Tata Consultancy Services (TCS)
TCS, the crown jewel of the TATA Group, is a global IT services and consulting powerhouse. Established in 1968, it has grown to become one of the world's largest IT services providers. TCS has a global footprint with a presence in more than 50 countries and a workforce of over 500,000 employees. The company's extensive portfolio includes services in IT consulting, business solutions, and outsourcing, making it a critical player in the digital transformation of businesses worldwide.
Tata Steel
Tata Steel is a trailblazer in the Indian steel industry, known for its commitment to quality and sustainability. The company's journey began in 1907 when it established India's first integrated steel plant in Jamshedpur. Tata Steel's global presence extends to Europe, Southeast Asia, and other regions, making it one of the world's top steel producers. The company's unwavering dedication to innovation and sustainability has been recognized with numerous awards and certifications, solidifying its position as an industry leader.
Tata Power
Tata Power is at the forefront of India's energy revolution, with a focus on renewable energy sources such as solar and wind power. Established in 1915, it has consistently strived to provide reliable and sustainable energy solutions. Tata Power's commitment to environmental stewardship is evident through its investments in clean energy projects and initiatives to reduce carbon emissions. Their mission aligns with India's goal to transition to a greener, more sustainable energy future.
Tata Chemicals
Tata Chemicals, another vital subsidiary of the TATA Group, plays a significant role in industries such as agriculture, food, and chemicals. The company's product range includes fertilizers, industrial chemicals, and consumer products. Tata Chemicals' dedication to sustainability is demonstrated by its initiatives in water management and green chemistry. The company continually seeks innovative solutions to address global challenges while minimizing its environmental footprint.
Tata Communications
Tata Communications, formerly known as VSNL, is a global telecommunications and digital infrastructure provider. Established in 1986, it has evolved into a key player in the digital revolution. The company's extensive network infrastructure spans the globe, connecting businesses, governments, and individuals. Tata Communications' focus on innovation and emerging technologies ensures it remains at the forefront of the rapidly evolving telecommunications industry.
Tata Consumer Products
Tata Consumer Products is responsible for some of India's most beloved brands, including Tata Tea, Tata Salt, and Tata Sampann. This subsidiary focuses on consumer goods and food products, offering a diverse range of products that cater to the daily needs of millions of consumers. Tata Consumer Products' commitment to quality and innovation has made it a household name in India and beyond.
Tata Group Companies List: Bottom line
The TATA Group subsidiaries collectively showcase the conglomerate's commitment to innovation, sustainability, and ethical business practices. Each subsidiary operates in its respective sector with a dedication to excellence, setting industry standards and contributing to India's economic growth and global presence. As the group continues to evolve and expand, its legacy of integrity and innovation remains steadfast, making it a shining example of India's industrial prowess on the world stage.
Apart from the above tata group companies list, we will keep on updating the list of tata group subsidiaries as and when we got it in our radar.
More Across from our Website
We endeavor to help you to understand different aspects of a company before you invest in the company's IPO. Learn all company insights for investment in new companies in the Indian share market 2023. To know more information about company insights for investment, business overview of companies for investment, here are some suggested readings on company insights for investment –10 Best IPOs in 2022, Tata Motors Stock Price, Tesla Stock Price Prediction 2025, Highest Dividend paying stocks, 5 best upcoming IPOs in India, Tata Technologies IPO Review, Golden Crossover Stocks.