Fabindia IPO will launch in 2023. The date and price band has not yet finalized. The company filed Red Herring Prospectus (DRHP) with market regulator SEBI on January 21, 2022, for an Initial public offering (IPO). The company again updated its document with SEBI on October 28, 2022.
As per the updated document, Fabindia Limited is coming up with an Offer for Sale (OFS) of 25,050,543 Equity Shares and a fresh issue of INR 500 Crore. The face value of each equity share is INR1. The promoter Mr. Bimla Nanda Bissell, Mr. William Nanda Bissell, Mr. Monsoon Latane Bissell, Mr. Madhurkar Khera, AND JLB PARTNERS HOLDING INC. are selling a part of their stake in the company through public issues of OFS.
Fabindia IPO – Company Overview
Fabindia Limited is expected to come up with IPO later this year. The company was incorporated on 14 December 1976 in South Delhi as "'Fabindia Overseas Private Limited". The Company name was changed to 'Fabindia Private Limited' on October 13, 2021. Fabindia deals in garments, furnishings, fabrics, and ethnic products. The company provides online shopping services.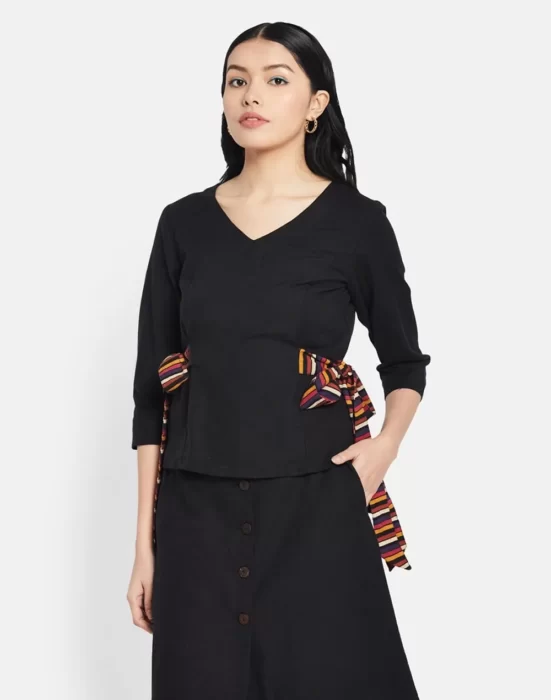 Fabindia is India's largest private platform for products that are made from traditional techniques, skills, and hand-based processes. The products of the company are affordable, natural, craft-based, and contemporary. The company offers its products under two brand names 'Fabindia' and 'Organic India' which are well known in India. The company has a network of 309 stores and experience centers across India. The company have approximately 74 Organic India stores covering all cities in India.
Industry Overview:
Fabindia caters to different segments of the retail industry; apparel, fabrics, furniture, food, beverages, etc. Market size of the Indian retail sector was INR75.2 trillion in FY 2020 with a growth of 12.4% from 2015. The Indian retail industry too will revive the growth trajectory of 9.5% over the next five years to 2025. Organized retail sector market size was around INR8.9 trillion in 2020. Organized retail is contributing ~11.8% to the total retail.
India is expected to witness approximately 300 million online shoppers by 2025 which is double from 150 million in 2020 driven by higher per capita income, work from home culture. The same trend will continue in future as well. This will benefit the top line of Fabindia in the next three to five years.
Fabindia Key Products & Services
Fabindia offers its product in four categories;
Apparel and accessories – like ethnic and western women's wear, menswear and kids wear, jewelry, bags, and footwear for men, women, and children; floor coverings, upholstery fabrics, and curtains;
Home and lifestyle – furniture, lighting, stationery, tableware, decorative, cane basket, and handcrafted utility items;
Personal care, consisting of skin care, hair care, and fragrances with naturally inspired ingredients,
Organic food consists of infusions, teas, staples, healthy snacks, detox kits, preserves, Ayurvedic supplements, and personal care. There is huge demand for these products in India.
Fabindia Founders
John Bissell founded Fabindia in 1960. He is an American businessman. He managed the handloomed textile export business in India for over 30 years.
Gyanendra Nath Gupta is the Chairman and Independent Director of Fabindia Company. He has been on the Board of directors for over a year. Gyanendra holds a master's degree in science. He too holds a law degree from Agra University. From 1999, he has been on the executive board of the Centre of Science and the Environment. Gyanendra served as a member of the Income Tax Appellate Tribunal Bar Association, New Delhi.
William Nanda Bissell is the Executive Vice Chairman and Director of Fabindia. He is one of the Promoters of the Company. William has been on the board of directors in the company for over 30 years. He holds a bachelor's degree in arts from Wesleyan University, Middletown, Connecticut. William has over 27 years of experience in the retail and apparel industry.
Fabindia Financial Details
Fabindia's total revenue decreased by 28.6% from INR15.244 billion in the year 2020 to ₹10.874 billion in the year 2021. Total expenses too decreased by 16.8% from INR14.8 billion in 2020 to INR12.35 billion in 2021. Loss after tax was INR1.2 billion in the year 2021. The company recorded a profit after tax of INR0.31 billion in the year 2020.
All amounts in INR Million
(Year ended March 31)
2019
2020
2021
Revenue Operation
14,743.07
15,080.47
10,596.43
Total Income
14,814.94
15,244.20
10,874.13
EBITDA
3,163.13
2,574.51
696.23
EBITDA Margin (%)
27.90
22.16
10.56
Profit After Tax
993.77
546.45
(1,114.89)
PAT Margin (%)
8.77
4.7
(16.91)
Earnings Per equity Share-Diluted
5.82
2.97
(7.41)
Net Cash from Operating Activities
1 ,953.13
2 ,301.69
1 ,251.48
Debt/Equity Ratio (%)
0.18
0.38
0.27
Adjusted RoE %
17.18
8.74
(19.09)
Adjusted ROCE (%)
43.42
26.46
(11.42)
Net Worth
6,190.82
6,310.70
5,368.94
Utilization of Net proceeds from Fabindia IPO
The company is coming up with an initial public offering of INR500 crores of fresh issues. Company will not receive any proceeds from OFS. The objective of the proceeds from fresh IPO is to reduce the debt of the company.
The main objectives of the Fabindia IPO are as follows.
Voluntary redemption of NCDs issued by Fabindia and the accrued interest thereon.
Prepayment or scheduled re-payment of a portion of certain outstanding borrowings availed by the company and the accrued interest thereon.
Other general corporate purposes.
Fabindia IPO Details
Fabindia IPO Price Band,
Date and Other details
Fabindia IPO launch date
Coming soon
Fabindia IPO Price Band
Coming soon
Fabindia IPO Allotment date
Coming soon
Fabindia IPO Refunds Initiation date
Coming soon
Credit of Shares to Demat Account
Coming soon
Fabindia IPO Listing Date
Coming soon
Fabindia IPO Offer for Sale
25,050,543 Equity Shares
Fabindia IPO Fresh Issue of Shares
INR 500 Crore
Equity Shares outstanding before the Issue
147,779,475 Equity Shares
Maximum bid (lot size)
For retail investor
Coming soon
Minimum bid (lot size)
For retail investor
Coming soon
Fabindia share Price Face Value
INR 1 Per share
Fabindia share Listed On
BSE and NSE
Fabindia IPO details: date, price band and listing
Fabindia IPO Lead Managers and Contact Details
Contact Details
Lead Managers
C-40, 2nd Floor,
Okhla Industrial Area,
Phase-II,
New Delhi-110 020,
India.
Tel: +91 11 4069 2000
E-mail: mailus@fabindia.net;
Website: www.fabindia.com;
Corporate Identity Number: U74899DL1976PLC008436
1. ICICI Securities Limited
2. Credit Suisse Securities (India)
Private Limited
3. J.P. Morgan India Private
Limited
4. Nomura Financial Advisory and
Securities (India) Private Limited
5. SBI Capital Markets
Limited
6. Equirus Capital Private
Limited
Fabindia IPO allotment status will be available on Link intime Limited website. To know your allotment status, get ready with your PAN number and click on this link. You may also reach out to E-mail: Signatureglobal.ipo@linkintime.co.in, Tel: +91 22 4918 6200.
Fabindia IPO GMP
| | | |
| --- | --- | --- |
| Date | Fabindia IPO GMP | IPO Price |
| | | |
| | | |
| | | |
| | | |
| | | |
More Across from our Website
We endeavor to help you to understand different aspects of a company before you invest in the company's IPO. To know more information about business overview of each company, here are some suggested readings on company insights 10 Best IPOs in 2022, Concord Bio IPO, Signature Global IPO, Tata Play IPO, Upcoming IPOs, Upcoming SME IPOs.