IKIO Lighting IPO Date and Review – The IKIO lighting IPO date is announced. The subscription will open from  Jun 6, 2023, to Jun 8, 2023, for the public. The stock will be traded in BSE and NSE.
IKIO Lighting is coming out with both offers for sale of 9,000,000 Equity Shares with a face value of ₹ 10 each and a fresh issue of ₹ 350 crores. The company filed a RED HERRING PROSPECTUS paper on May 29, 2023. You can find the company RHP document with market regulator SEBI here.

IKIO Lighting IPO – Business Description
IKIO Lighting is one of the leading Indian manufacturers of light-emitting diode ("LED") lighting solutions. The company is a vertically integrated manufacturer in the field of light-emitting diodes. IKIO is primarily an original design manufacturer ("ODM") and design, develop, manufacture, and supply products to distributors in India.
IKIO lighting products are categorized as
LED lighting;
Refrigeration lights;
ABS (acrylonitrile butadiene styrene) piping;
Other products.
Lighting solutions include lights, drivers, and controls, supplied to commercial refrigeration equipment suppliers under our refrigeration light segment.
The company also manufactures an alternative to polyvinyl chloride ("PVC") piping called ABS piping which is primarily used by our US customers for plumbing applications in recreational vehicles ("RVs").
Other products segment includes fan regulators, light strips, molding, and other components and spares.
Customer of IKIO Lighting
The major customers of IKIO Lighting are Signify Innovations India Limited and erstwhile Philips Electronics India Limited ("Signify (Philips)") who had a 50% market share in India's functional decorative lighting category.
Other customers are Western Refrigeration Private Limited, Panasonic Life Solutions India Private Limited, and Novateur Electrical & Digital Systems Private Limited.
IKIO Lighting Leadership
The promoter, Hardeep Singh, has a 10-year-long relationship with Signify (Philips). Mr. Hardeep Singh is the Chairman and Managing Director on the Board. He has more than two decades of experience in the manufacturing of television kits, electronic components, and LED lighting. He has been honored by Philips with the "Game Changer" Award for LED Lighting Production.
IKIO Lighting Revenue and Profit
Approximately 93.56% of the company's consolidated restated revenues from operations are coming from repeat customers in Fiscal 2022. The company enjoyed strong and long-standing relationships with the customers which is the strength of this company.
In the nine months ended December 31, 2022, and Fiscal 2022, IKIO Lighting derived 73.63% and 78.81% of consolidated revenues from operations from repeat customers.
In the nine months ended December 31, 2022, and in Fiscal 2022, the consolidated restated revenue from operations from our top ten customers were ₹2,068.87 million and ₹2,172.63 million, respectively, which represented 85.94% and 98.80%, respectively, of the consolidated restated revenues from operations.
On December 31, 2022, and in Fiscal 2022, the consolidated revenue from operations from our top ten customers was ₹2,575.41 million and ₹2,659.18 million, respectively, which represented 78.37% and 80.13%, respectively. , of our proforma consolidated revenues from operations.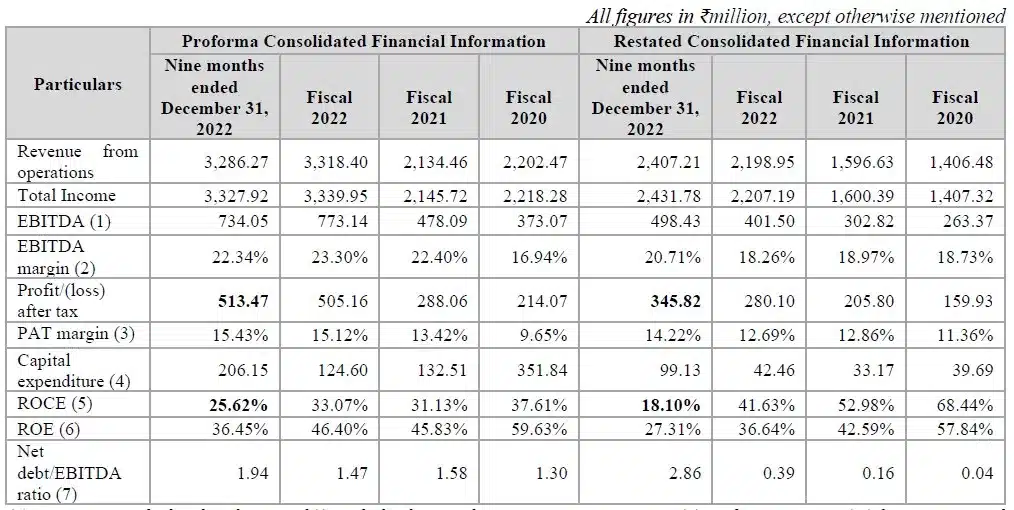 Objective Behind the IKIO Lighting Limited IPO
From the Offer for Sale (OFS) issue the Company will not receive anything.
Out of the net proceeds from the fresh issue, the company is proposing to use Rs 50 crore to reduce in full or part, of certain borrowings.
The rest amount of Rs 212.3 crore will be utilized to further investment in its wholly owned Subsidiary, IKIO Solutions Private Limited, for setting up a new facility at Noida, Uttar Pradesh.
Why invest – IKIO Lighting IPO Review
IKIO Lighting is one of the leading manufacturers of EMS systems.
The global EMS market is expected to grow at a CAGR of 5.4% to reach USD 1,145 Billion in CY 2026.
Increasing demand for Electric vehicles further enhances the prospectus of this company.
The (EV) Electric Vehicle market will be the most lucrative in the automotive industry over the next decade.
The company has been consistently performing in terms of financials.
The profit margin has improved from 9% in FY2020 to 15% in FY2022.
The company also recorded decent ROE and ROCE over the period from FY2020 to FY2022.
The above points interest me to invest in the IKIO Lighting Limited IPO for the long term.

IKIO Lighting IPO Date Review Price Details
IKIO Lighting IPO Details
IKIO Lighting IPO Date,
Price and others
IKIO Lighting IPO Date
Jun 6, 2023 to Jun 8, 2023
IPO Price band
₹270 to ₹285 per share
IPO Allotment date
Tuesday, 13 June 2023
Refunds Initiation date
Wednesday, 14 June 2023
Credit of Shares to Demat Account
Thursday, 15 June 2023
IKIO IPO Listing Date
Friday, 16 June 2023
Fresh Issue
₹350 Crore
Offer for Sale
9,000,000 shares
of ₹10 each
Minimum bid
(Lot size/ Amount)
52 shares / lot
(Total Investment of ₹14,820)
Face Value
₹ 10 per share
Listing on
BSE & NSE
IKIO Lighting Office and Lead Managers
Contact Details
Lead Managers
IKIO Lighting Limited
411, Arunachal Building,
19 Barakhamba Road, Connaught Place,
New Delhi – 110 001
Phone: +91 120 – 4116186
Email: secretarial@ikiolighting.com
Website: http://www.ikio.in/
1. Motilal Oswal Investment
Advisors Limited
More Across from our Website
We endeavor to help you to understand different aspects of a company before you invest in the company's IPO. Learn all company insights for investment in new companies in the Indian share market 2023. To know more information about company insights for investment, business overview of companies for investment, here are some suggested readings on company insights for investment –10 Best IPOs in 2022, Tata Motors Stock Price, Tesla Stock Price Prediction 2025, Highest Dividend paying stocks, 5 best upcoming IPOs in India.
IKIO Lighting IPO allotment Status
IKIO Lighting IPO allotment will be available on KFin Technologies Limited website.
IKIO Lighting IPO Registrar
KFin Technologies Limited
Selenium Tower B, Plot 31 & 32, Gachibowli,
Financial District, Nanakramguda, Serilingampally
Hyderabad 500 032, Telangana, India
Telephone: +91 4067162222/18003094001
E-mail: ikiolighting.ipo@kfintech.com
Investor Grievance ID: einward.ris@kfintech.com
Website: www.kfintech.com
Contact Person: M Murli Krishna
SEBI Registration Number: INR000000221