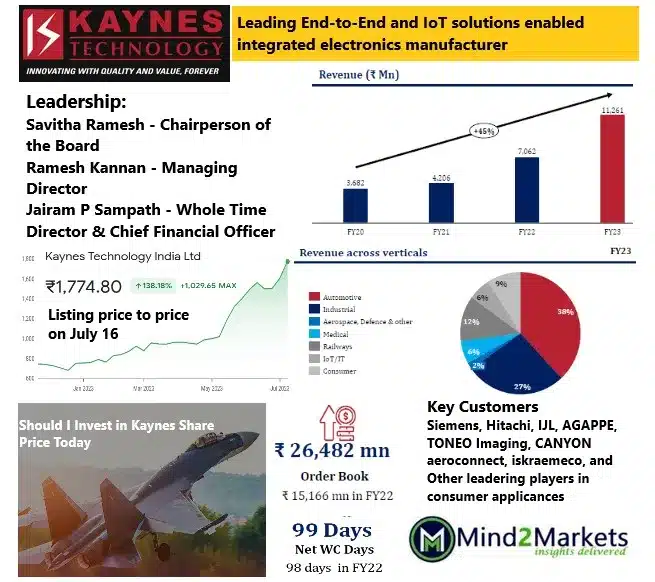 kaynes share price target for 2025 will be around 2550. However, it is important to understand it it is the right time to invest. Kaynes Technology India started its stock market debut in November 2022 in India. Kaynes Tech IPO was one of the best IPO in the electronics manufacturing segment in India. Kaynes Technology India Limited is a leading end-to-end and IoT solutions-enabled integrated electronics manufacturing player. The company operates in all nodes from design to manufacturing to product sustenance.
Have capabilities across the entire spectrum of electronics system design and manufacturing ("ESDM") services.
The company has 34 years of experience in providing conceptual design, process engineering, integrated manufacturing, and life-cycle support.
The products of the company cater to the major players in the automotive, industrial, aerospace and defense, outer-space, nuclear, medical, railways, Internet of Things ("IoT"), Information Technology ("IT"), and other segments.
The company has 8 manufacturing plants and 2 service centers across India.
Long-term relationship with customers. Over 40% of its customers associated for over seven years.
Kaynes Technology India: Financial Performance
Kaynes delivered strong revenue growth of 59% for FY23 driven by strong demand across the Automotive, Railways, IT/IoT, and Consumer verticals. With an executable order book of over INR 26,482 mn, the company has the visibility of strong growth for FY24.
Kaynes Technology completed its IPO in 2022 successfully. Now the company is focusing on upgrading its capacity and capabilities which are expected to streamline in phases starting FY24.
Financial Key Matrices
Orderbook at an all-time high at about Rs. 26,482 mn
Revenue at Rs. 11,261 mn; up 59% YoY
Growth led by strong demand across Automotive, Railways, IT/IoT, and Consumer verticals
EBITDA at INR 1,683 mn; up 80% YoY and EBITDA Margins at 14.9%, expanded 168 bps YoY
PAT at INR 952 mn; up 128% YoY
Competitive Landscape of Kaynes Technology
Kaynes Technology is one of the leading players in the Electronic System Design and Manufacturing ("ESDM") Industry. The companies in this industry presence in India can be segmented by global companies, large Indian companies, and mid/small Indian companies.
Major global companies present in the Indian market are Bharat FIH, Flex, Wistron, Pegatron, Jabil, etc. Large Indian companies include Kaynes, Dixon, Amber, SFO, Syrma SGS, Elin, and Centum among others. Under mid-size Indian companies Avalon, VVDN, and Rangsons are a few names
Global ESDM Industry Outlook
The global ESDM market was estimated at USD 804 billion in 2020. The market is expected to reach USD 1,002 billion in 2025 at a growth rate of 4.5%. China leads the global ESDM business with almost 45.5% share. On-going digitalization, IoT, and urbanization are some megatrends that are driving the growth prospects of this industry. However, post-COVID-19 pandemic, many global electronics manufacturers are contemplating on China + 1 strategy and looking for alternate manufacturing locations for export business. This is creating tremendous investment potential for countries like Vietnam, India, the Philippines, etc.
India contributes to approximately 1.8% of the global ESDM market in 2020. However, there is a strong push
from the Government of India to make the country an ideal location for electronics manufacturing in the region. The government of India has announced several supportive schemes to manufacturers for setting up ESM plants in the country. The Internet of Things ("IoT"), which is part of CEA, is gaining in popularity as the number of internet users and smart device use rises.

The Electronics industry is one of the fastest-growing industries in India. The electronics market including
domestic electronics production and imports of electronic finished goods in India is valued at ₹ 6,711 billion (USD 91 billion) in Fiscal 2021, which is expected to grow at a CAGR of 25.5% to reach ₹ 20,873 billion (USD 282 billion) in Fiscal 2026.
Domestic production accounts for approximately 74% of the total electronics market in Fiscal 2021, valued at ₹ 4,975 billion (USD 67 billion). The production of electronics products is expected to grow to approximately 96% by Fiscal 2026, valued at ₹ 20,133 billion (USD 272 billion). This is driven by various government initiatives and the development of India's electronic ecosystem.
There are nearly 700 companies offering services related to the design and manufacturing of electronics products, according to the Electronic Industries Association of India ("ELCINA"). While most of the companies offer pure-play manufacturing/assembly services, known as EMS companies, there are specialized companies such as Kaynes which offer services across the value chain including conceptual product design, components, products and solutions. This concept is known as ESDM. EMS companies offer 'Build to Print' of either PCBA only or complete Products, whereas ESDM companies leverage their conceptual 'Embedded Design' capabilities to add value in electronics manufacturing such as Kaynes.
Though the future of Kaynes technology share price is bright, the valuation of this stock is quite high at the current price. The Stock is trading at 10.8 times its book value which is quite high. The stock P/E is also quite high. Hence, it is not the right time to buy the stock. I would prefer to wait for the correction to enter into this counter.
Though the company is not paying out dividends now, it is reporting repeated profits. The company has no formal dividend policy as of now.
Kaynes technology Share Market Cap: ₹ 10,320 Cr.
Kaynes Share Price P/E ratio: 108
Kaynes Share Price P/B ratio: 10.77
Kaynes technology Share Dividend Yield: 0.00%
Return on Equity: 16.4%
Return on Capital Employed: 21.7%
Kaynes Technology share price Face Value: ₹ 10.0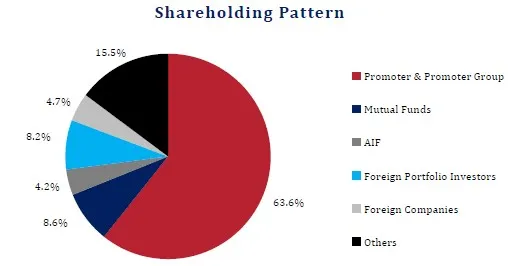 Market experts remain positive on the counter in the long run and suggest considering it as a long-term play.
After a strong listing of the Kaynes technology Share during its debut, Manoj Dalmia, Founder and Director, Proficient Equities said investors can hold it with a mid-term to long-term perspective. Echoing a similar tone, Ravi Singhal, CEO, GCL Securities said the stock still looks good for long-term play. However, should I buy it now or wait for a correction? You may consider the below points before taking a call on the counter.
KAYNES has seen a sharp rise in revenue over the years
The EMS industry in India is going to grow at a CAGR of 25.5% to reach ₹ 20,873 billion (USD 282 billion) in Fiscal 2026.
Improving EBITDA margin and strong return ratios will help Kaynes Tech share price to grow in the future.
Expand manufacturing capacity at existing facilities, intends to set up an additional manufacturing facility at Chamarajnagar, Karnataka.
Continue to expand the customer base to focus on large customers, setting up sales and marketing offices in the United States, Japan, and Europe to grow its exports.
We expect Kaynes technology share price Target 2025 to reach the 2550 level. However, I would love to buy at a correction to hold it for the long term.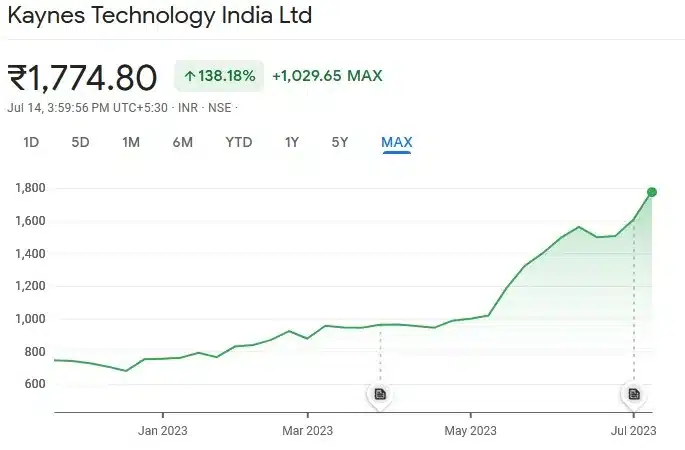 Share Price of Kaynes Technology Daily Technical Chart NSE
More From Across our Website
We endeavor to help you to understand different aspects of a company before you invest in the company's IPO. Learn all company insights for investment in new companies in the Indian share market 2023. To know more information about company insights for investment, business overview of companies for investment, here are some suggested readings on company insights for investment –10 Best IPOs in 2022, Tata Motors Stock Price, Tata Play IPO, Upcoming IPOs, Upcoming SME IPOs, Tesla Stock Price, Tata Technologies IPO, Should I invest in Fine Organic Share, Should I invest in NSDL IPO.
mind2markets is in news
Feedstop has mentioned mind2markets website as one of the best site to provide stock analysis and insights about the company to invest in. Keep in touch.