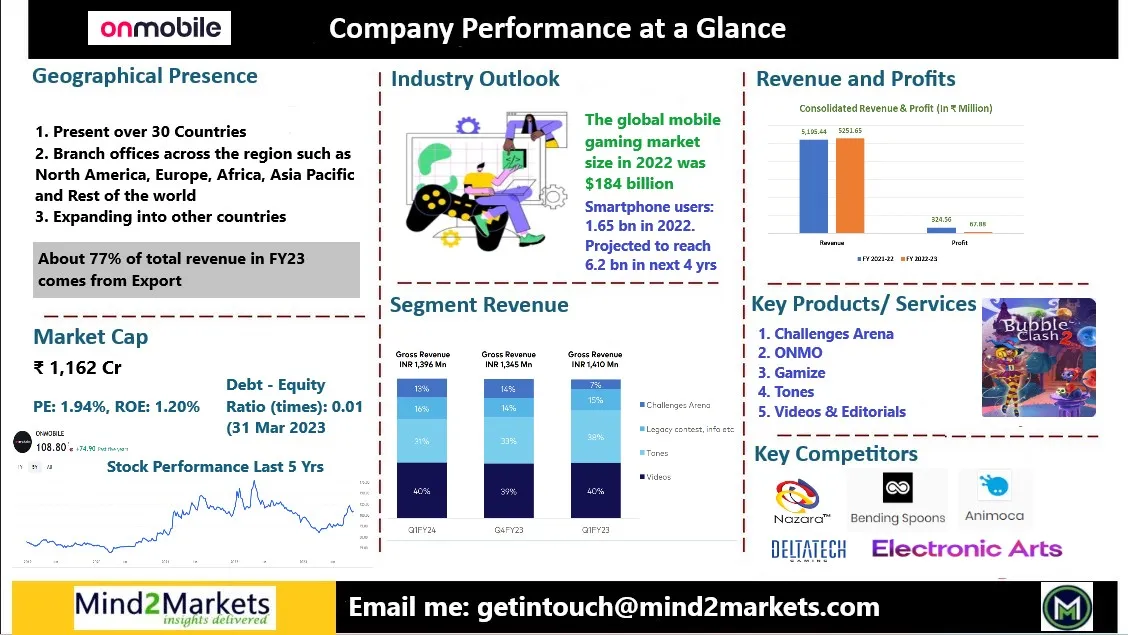 OnMobile Global Share Price Target: Key Points
OnMobile is one of the fastest-growing online gaming companies in India.
It is a subscription-based platform. OnMobile Global's Subscription Clubs are similar to Netflix and Spotify.
OnMobile is launching new B2B products and services, such as a mobile advertising platform and a customer analytics platform.
The company is expanding into new markets, such as Africa and Latin America, by partnering with local telecom operators and media companies.
OnMobile share price trades at 64.9 stock PE and with ROE 1.2% and ROCE 1.94% at a Book Value of Rs 61.8.
Changing government policy towards the gaming industry in India may be a challenge for this company. This will influence OnMobile Share price.
Onmobile Global is a gaming company that focuses on mobile gaming. The OnMobile global share price recorded a high at Rs. 372 in April 2008 after its debut in the stock market. However, the OnMobile share price has since fallen to its lowest at Rs. 16 in March 2020. The OnMobile Global share was listed in exchanges in February 2008 at Rs. 220 level. With the current price at Rs 106, if one invested in OnMobile Global Share Price at Initial Public Offering (IPO) time, the total investment would have been 60% down by now.
OnMobile share price target for 2024 would be around Rs 190. OnMobile Global is a small-cap company with a market cap of Rs. 1125 crore in September 2023. The face value of the OnMobile share price is Rs10 while the stock reached its high of Rs. 128 and the low is Rs. 55.6. There are many small and big companies present in the gaming industry. The market offers immense opportunities for expansion and revenue generation. The total addressable market of the gaming industry is so high that everyone can have their pie.
If we talk about the future OnMobile Share price target of 2025, then if the company management is successful in increasing the sales growth and net profit of its business, OnMobile Share Price Target can be seen from Rs 200 to Rs 220 in 2025.
The Global Gaming Industry Outlook
The global gaming market is expected to reach US$ 666 billion by 2030 from the current size of approximately US$ 250 billion in 2022. The gaming industry is likely to grow at a CAGR of 13% approximately during the period from 2023 to 2030 mainly driven by increasing disposable income, and inclination towards entertainment after COVID-19.
In 2022, the global mobile gaming market size surged to an impressive $184 billion. As of 2023, the number of smartphone users has reached 1.65 billion and is projected to reach 6.2 billion within the next 4 years. Since a significant 79% of all gamers opt to play on their mobile phones.
The global economy is expected to rebound by 2025, while the Indian economy is expected to grow at a rate of 6.5% during the above time. This will help the gaming industry to perform well over the next five years. The mobile gaming segment is expected to record the highest growth rate during the above time driven by high-speed internet (5G), and increasing penetration of smartphones.
The gaming industry has been experiencing significant growth over the years and is expected to continue growing in the future.
OnMobile's unique selling proposition is its focus on mobile gaming in emerging markets. The company has a strong presence in India and other Asian countries, and it offers a variety of games that are tailored to the preferences of local gamers.
Looking at its segment revenue, the company gets 40% of its revenue from Videos and 31% of its revenue from the Ringtone segment (Tones) in Q1FY24. The company is not yet seeing much returns from its online gaming platform. The revenue from the gaming platform is only 13% in Q4FY24.
However, there is an increasing demand for online gaming in the future, the company management is seen investing in this segment. The share of the gaming segment has improved from 7% in Q1FY23 to 13% in Q1FY24. In the coming time, the company is expected to get good profits from its gaming platform.
If we talk about the long-term OnMobile Share price target, then the craze for online games and videos will be seen increasing in India in the future. Most of the revenue, about 50% currently comes from Europe. But in the future, the company will also be seen trying to strengthen its hold in India's telecom market and expanding into other Asian countries. If successfully executed, this will influence OnMobile Global Share price over long term.
The company has a negligible debt of Rs80 million while the debt-to-equity ratio is 0.01 by the end of March 31, 2023. As the business model of the company will see good growth in the future, OnMobile Share Price Target 2030 may be seen above Rs 400 amid market fluctuations.
OnMobile Global Business Model
The company is a global leader in the ringback tones segment. The company has acquired some small companies in the recent past. The company will be seen gaining a strong foothold in the telecom sector and gaming segments in the future.
OnMobile Global is a leading mobile entertainment company headquartered in Bangalore, India. It provides mobile entertainment products and solutions to telecom operators and media companies around the world. OnMobile's core products include:
Tones: Ringback tones, caller tunes, and other audio-based content.
Videos & Editorial: A digital content store offering a wide range of video, audio, and editorial content, including movies, TV shows, music, games, and news.
Infotainment: A mobile platform offering a variety of interactive content and services, such as music, contests, news, and sports.
OnMobile's business model is based on revenue-sharing agreements with its telecom operator and media company partners. OnMobile also offers several B2B products and services, such as:
ONMO: A cloud gaming platform that offers users access to a variety of mobile games on demand.
Gamize: A customer engagement SaaS platform that helps businesses engage and retain their customers.
OnMobile has a strong presence in over 30 countries around the world. In FY23, the Ring Back Tones service achieved significant milestones with 62 million active users, generating Rs. 195.8 million in top-line revenue. This has strong influence on the OnMobile Share price.
OnMobile Global's financial performance has been mixed in recent years. The company has been profitable, but its revenue growth has slowed.
In the fiscal year 2022-23, OnMobile Global reported revenue from operation of Rs. 525.2 crore, up 1% from the previous year of Rs 519.5 Crore. Net profit was Rs. 32.45 crore down from Rs 6.78 Crore from the previous year.
However, in QoQ, the company has improved its revenue by 3.8% in Q1FY24 compared to the previous quarter. PAT also increased to Rs 9.8 Crore (margin 7.2%) this quarter over the previous one. Revenue from Challenges Arena has grown close to 22 time in the last 9 quarters.
Here is a summary of OnMobile Global's financial performance for the past five years:
OnMobile Global Financials (Consolidated)
Period
Revenue
from Operation
PAT
Cash and
Equivalents
EPS
FY2019
5,938.64
188.87
2,722.54
1.79
FY2020
5,724.24
275.83
2,744.86
2.61
FY2021
5,512.92
459.82
2,691.70
4.41
FY2022
5,195.44
324.56
2,006.71
3.05
FY2023
5251.65
67.88
1531.32
0.64
Rs. Million
OnMobile Global Peer Analysis
OnMobile faces stiff competition from both global and local gaming companies. Global gaming companies such as Electronic Arts and Activision Blizzard have large budgets and can produce high-quality games. Local gaming companies such as Nazara Tech, and Deltatech are also becoming more competitive, as they can develop games that are tailored to the specific needs of their local markets.
Some of the competitors of the OnMobile gaming platform are as below:
Nazara Technologies
Deltatech
Bending Spoons
Animoca
Gameloft
Electronic Arts
These companies offer a variety of gaming products and services, including mobile games, console games, PC games, and cloud gaming. They compete with OnMobile on several factors, such as game quality, price, and marketing.
Promoters of OnMobile Global
François-Charles is the President and Chief Executive Officer of OnMobile Systems Inc. He is the largest shareholder of OnMobile. He has over 15 years of experience in corporate mergers, acquisitions, and financing.
OnMobile Global Business Strategy
OnMobile Global is planning to diversify its product portfolio in the gaming platform. The company has added challenges arena, ONMO – a mobile quiz game, a mobile cloud gaming platform, and D2C product Gamize – a customer engagement platform – in the year 2021.
The company is planning to exceed INR 600 crore in revenue in FY'24, with mobile gaming contributing about 25% of it. The company has extended contracts with key telecom players such as Telefonica, and America Movil partnerships. The company also expanding its reach into Africa and LATAM.
The company is planning to reach out 200 mobile operators globally to reach 150 million active users, and onboard 500 digital brands by 2025.
In addition to the above, OnMobile is also investing in new technologies, such as artificial intelligence and machine learning. That will improve its products and services and make it more competitive.
Bottom lines
The gaming industry is highly competitive, and OnMobile is a small player in the gaming arena. Despite the challenges, OnMobile Global is still a profitable company. The company is also well-positioned to capitalize on emerging trends in the mobile market, such as cloud gaming and mobile marketing.
OnMobile Global is a well-managed company. Looking at the future of online gaming industry, the OnMobile Share price future is bright. The company is also well-positioned to capitalize on emerging trends in the mobile market, such as cloud gaming and mobile marketing. Considering above analysis, OnMobile share price seems a good investment for short and medium term.
However, to keep competitive in this industry, the company needs to focus on innovation and improve its products and services.
More Across from our Website
We endeavor to help you to understand different aspects of a company before you invest in the company's IPO. Learn all company insights for investment in new companies in the Indian share market 2023. To know more information about company insights for investment, business overview of companies for investment, here are some suggested readings on company insights for investment –10 Best IPOs in 2022, Tata Motors Stock Price, Tesla Stock Price Prediction 2025, Highest Dividend paying stocks, 5 best upcoming IPOs in India, Tata Technologies IPO Review.