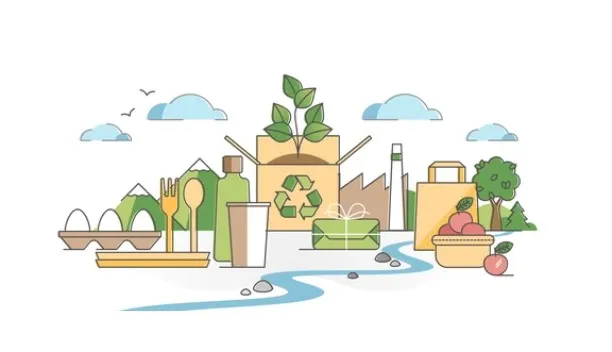 Key Details of Victory Packaging Solution
Victory Packaging is one of the major packaging solutions provider in North America.
They have been in business for over 4 decades.
The company offers a wide range of packaging products, including bags, bottles, bubble cushioning and wrap, custom packaging, flexible packaging, forming packaging, paper-based packaging, protective foam, rigid containers, shrink film, smart packaging, strapping, stretch film, and tape.
The company has a strong team of experts who can help you choose the right packaging for your needs.
Victory Packaging offer end-to-end packaging solutions that includes packaging design, engineering, and manufacturing.
The company is committed to sustainability and offer recycled and biodegradable options for their packaging products.
Victory Packaging Company Review
Victory Packaging is one of the packaging companies that has been at the forefront of revolutionizing the packaging industry. In the changing world of e-commerce, packaging plays a pivotal role in ensuring the safe and efficient delivery of products. With its innovation, customer satisfaction, and sustainable practices, Victory Packaging has emerged as a leader in providing cutting-edge packaging solutions to its customers in the US.
This article delves into the remarkable journey of Victory Packaging, and the company transformed itself with its innovative products.
Victory Packaging Legacy and distribution network
The company was founded in 1976 by Richard S. Marz. Over the years the company has grown to become a dominant force in the packaging industry with its strategic partnerships and innovative packaging solutions. From its inception, Marz's has been focusing on customer service, quality products, and commitment to excellence. That played a pivotal role in shaping Victory Packaging into the prominent company it is today.
Victory Packaging WestRock
Victory Packaging rapidly gained recognition and expanded its operations across North America with its extensive network of distribution centers and acquisitions. The company was acquired by WestRock, a publicly traded paper and packaging company based in Atlanta, Georgia in 2018.
WestRock, the parent company of Victory Packaging, is also acquired Grupo Gondi for $970 million. Grupo Gondi is a paper and packaging company with operations in Mexico in December 2022. Before this, WestRock acquired Plymouth Packaging, Inc. in January 2018 and Kapstone Paper and Packaging Corporation in November 2018.
Victory Packaging Near Me
Headquarters is in Houston, Texas, Victory Packaging is present in 65 locations across North America – the United States, Canada, and Mexico – with 6 million square feet of warehouse space, 400 delivery vehicles, and 1,700 employees.
Here is the list of all of Victory Packaging's locations:
United States

Asheville, NC
Atlanta, GA
Acuna, Coahuila, Mexico
Calgary, Alberta, Canada
Charlotte, SC
Dallas, TX
Denver, CO
Detroit, MI
El Paso, TX
Fayetteville, NC
Guadalajara, Jalisco, Mexico
Houston, TX (Corporate Office)
Irapuato, Guanajuato, Mexico
Jacksonville, FL
Kansas City, MO
Los Angeles, CA
Los Mochis, Sinaloa, Mexico
Louisville, KY
Memphis, TN
Mexico City, Estado de Mexico, Mexico
Minneapolis, MN
Monterrey, Nuevo Leon, Mexico
New Jersey, NJ
New Orleans, LA
Nogales, Sonora, Mexico
Oklahoma City, OK
Orlando, FL
Phoenix, AZ
Pittsburgh, PA
Queretaro, Queretaro, Mexico
Reynosa, Tamaulipas, Mexico
San Antonio, TX
Tucson, AZ
Vancouver, British Columbia, Canada
Winnipeg, Manitoba, Canada

Canada

Calgary, Alberta
Vancouver, British Columbia
Winnipeg, Manitoba

Mexico

Acuna, Coahuila
Guadalajara, Jalisco
Mexico City, Estado de Mexico
Monterrey, Nuevo Leon
Nogales, Sonora
Queretaro, Queretaro
Reynosa, Tamaulipas

Victory Packaging Solutions Review
Victory Packaging delivers innovative services and enhanced packaging processes with cost-savings to customers across industries. Victory Packaging is a full-service packaging solutions company with a wide range of products and services to choose from. This can be segmented as below.
Custom packaging: Victory Packaging can create custom packaging solutions to meet the specific needs of its clients. The company can meet the requirements of the largest, most complex company.
Packaging Engineering and Design: The company is committed to delivering cost-saving and innovative packaging solutions to meet unique packaging engineering needs.
Fulfillment services: Victory Packaging seamlessly handles end-to-end fulfillment needs of packaging, from picking and packing to shipping and tracking.
Equipment and automation solutions: The company assists through the entire process from selection to installation and technical support to ensure your packaging lines run smoothly through single-function packaging machines and fully automated systems.
E-Commerce and Supply chain management: Victory Packaging helps to manage your supply chain, and optimize your logistics to increase service levels to your customers.
Victory Packaging products across Industries
Along with the packaging solutions, the company has different products that serve industries such as Automotive, Manufacturing, distribution, food and beverages, retail, transportation, windows, and door packaging.
Innovation and Sustainable Packaging Solutions
Victory Packaging continually invests in research and development to stay ahead of emerging trends and technological advancements. From state-of-the-art packaging materials to advanced design techniques, the company's offerings are designed to enhance product protection, optimize logistics, and create a memorable unboxing experience for consumers.
Victory Packaging recognizes the importance of sustainable practices. Victory Packaging's sustainable packaging solutions incorporate recycled and renewable materials, reducing waste and promoting a circular economy. Additionally, Victory Packaging's key national suppliers are committed to sustainability in general and SFI certification in particular.
Strategic Initiatives through Partnerships
Over the years, Victory Packaging has forged strong partnerships with leading suppliers. Collaborations with renowned manufacturers have empowered the company to offer cutting-edge solutions that meet evolving market demands.
The parent company WestRock has partnered with many companies to continue the legacy of Victory Packaging.
In 2020, WestRock partnered with Asahi Breweries to develop a new can collar for Asahi Super Dry beer. The can collar is made from recycled paperboard and is designed to help Asahi Breweries reduce its environmental impact.
In 2021, WestRock partnered with Budějovický Budvar and Mattoni 1873 to develop a new paperboard-based multipack solution for cans. The multipack is designed to help Budějovický Budvar and Mattoni 1873 reduce their environmental impact.
Victory Packaging Competitor in North America
Other Alternatives
Major Competitors
Victory Packaging Employee Reviews
The company got 3.4 stars out of 5 from employees across the profile. Employees have given their views on work-life balance, Pay and benefits, Job security and Advancement, Management, and culture.
However, many people have remarked negatively while saying "Dead-end job with no signs of growth" while at the same time, a few employees also opined that it is a "Great place to work" saying "Victory is a great company to work for. The managers were helpful. The compensation was good. Co-workers were great and so was the overall atmosphere. Great Company." So, it s a mixed review from employees.
Victory Packaging Client Review
Clients seem to be happy with the services of the company. We did not find any negative comments from any of its clients. It seems the company has been focusing on customer satisfaction as one of its priority. Please share your feedback if you are a client of this company.
Outlook
Victory Packaging has emerged as a trailblazer in the packaging industry, driven by a passion for innovation, customer-centricity, and sustainable practices. With its extensive range of customized packaging solutions, strategic distribution network, and expertise in logistics, the company continues to redefine industry standards. Through its unwavering commitment to excellence, Victory Packaging empowers businesses to optimize their packaging processes, reduce costs, and enhance their brand value. As the packaging
Please share your feedback if you want me to write more about other packaging companies in the USA.
More From Across our Website
We endeavor to help you to understand different aspects of a company before you invest in the company's IPO. Learn all company insights for investment in new companies in the Indian share market 2023. To know more information about company insights for investment, business overview of companies for investment, here are some suggested readings on company insights for investment –10 Best IPOs in 2022, Tata Motors Stock Price, Tata Play IPO, Upcoming IPOs, Upcoming SME IPOs, Tesla Stock Price, Tata Technologies IPO, Is fine organics a good buy now.
mind2markets is in news
Feedstop has mentioned mind2markets website as one of the best site to provide stock analysis and insights about the company to invest in. Keep in touch.