Crayons Advertising IPO subscription is opening on 22nd May 2023 to 25th May 2023. According to the prospectus, the Crayons Advertising IPO consists of a fresh issue of 6,430,000 shares of ₹10 face value. There is no offer for sales in the IPO issue. The retail allocation is 35% of the total size while QIB Shares Offered are not more than 50% of the net issue. NII (HNI) Shares Offered is not less than 15% of the Net Issue.
Crayons Advertising IPO Key Highlights
Crayons Advertising IPO Subscription Date: May 22, 2023 to May 25, 2023
Face Value: Rs 10 Per Equity share
Price range: ₹62 to ₹65 per share
Listing Date: June 2, 2023
Retail (Mini and Max) Investment: 2000 Equity shares and Rs130,000
Crayons Advertising IPO – The Company Business Description
Crayons Advertising Limited is an integrated marketing and communications agency, providing 360-degree solutions to its various clients. The company has been in this industry for over 36 years and is continuously expanding its business horizons across the world, reflecting its growing expertise in the marketing and advertising industry.
The company offers world-class creative, exceptional brand marketing strategy, pragmatic online & offline media planning & buying, cutting-edge digital expertise, on-ground & virtual activation capabilities, and design solutions that help our clients in brand building.
Crayon Advertising provides a high-end ecosystem and end-to-end ad-tech communication solutions platform for advertising media services.
The company operates through 5 (five) offices located in New Delhi, Mumbai, Chennai, Kolkata, and Lucknow.
Some of its notable campaigns are 'Desh Ki Mitti for Kajaria, 'Wings of Change' for TATA Air India, and the global launch of the 'Incredible India campaign.
The company has won many accolades from national and international agencies to its credit in advertising campaigns.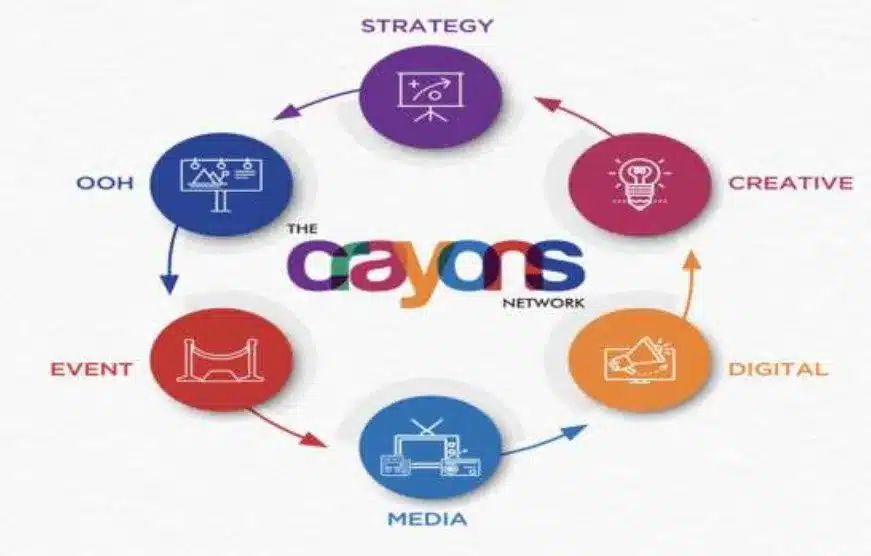 Crayons Advertising Limited Leadership
The company was incorporated by the founder and Chairman Mr. Kunal Lalani. He has over 36 years of experience in this Industry.
SAMIR DATAR is the Chief Strategy Officer of the company. Samir has 30 years of experience in the advertising industry. Samir was responsible for the resurgence of Maggi Noodles, launched Nature Fresh in India, created campaigns for Indian Army, Indian Air Force, and Indian Navy, and been the brand custodian for Samsung for 6 years.

Crayons Advertising Limited Revenue and Profit
The company's revenue from operations for the period ended December 31, 2022, was Rs. 19,901.18 Lakhs which is 97.68% of the total revenue and which includes revenue from print media, electronic media, outdoor media services, and Events & Activation.
Other income for the period ended December 31, 2022, was Rs. 473.34 Lakhs which is 2.32% of the total revenue, which includes rent received and interest from banks.
Crayons Advertising IPO: Financial Snapshot
| | | | | |
| --- | --- | --- | --- | --- |
| All amounts ₹ in lakhs | 31 March | 31 March | 31 March | 31 Dec |
| Some Statistics | 2020 | 2021 | 2022 | 2022 |
| Total Revenue | 16,367.65 | 10,661.22 | 19,404.97 | 20,374.52 |
| Profit After Tax | 116.57 | 12.97 | 161.34 | 1,267.08 |
| EBITDA | 558.92 | 268.69 | 436.07 | 1,878.67 |
| Total Asset | 13,218.03 | 10,664.77 | 12,725.47 | 12,993.16 |
| Net Cash from Operating Activities | (1,071.16) | (191.68) | 988.43 | (1,259.07) |
| Total Net Worth | 3,549.64 | 3,562.61 | 3,723.95 | 4,991.03 |
| Total Borrowing | 1,528.16 | 1,532.86 | 960.57 | 815.62 |
Objective Behind the Crayons Advertising IPO
Funding of working capital requirements of the Company; Around Rs 1452.46 lakh will be used for this purpose.
Capital expenditure on infrastructure and cutting-edge technology for expansion; Rs 1529.50 lakh will be used for this purpose.
The Rest amount will be used for General Corporate Expenses.
Global Advertising Market Outlook
The global advertising market valued at US$ 590.3 Billion in 2021. IMARC Group expects the market to reach US$ 792.7 Billion by 2027 at a CAGR of 5.2% during 2022-2027.
The global economic slowdown will have an immediate impact on this industry. But this impact will be a short period. Once the economy starts recovering, the global advertising market will again flourish. American consumer goods corporation Procter & Gamble was the largest advertiser worldwide in 2020, having spent more than eight billion U.S. dollars on ads. Other big advertisers include Dutch-British Unilever, French L'Oréal, and American Amazon respectively second, third, and fourth in the ranking.
By 2026, the global ad revenue market is expected to cross the one trillion dollar mark. North America is expected to remain the largest regional ad market, closely followed by Asia Pacific. Western Europe ranks third, with ad spend amounting to less than half of these of North America.
Crayons Advertising Limited IPO: Do you invest?
Crayons Advertising has a strong presence in this industry with over 36 years of experience.
The company was part of popular ad campaigns like 'Desh Ki Mitti' for Kajaria, 'Wings of Change' for TATA Air India
Presence in both off-media and Digital media.
Crayon advertising limited registered a revenue growth of over 90% from FY2021 to FY2022.
The company has witnessed significant growth in PAT from INR 180.56 lakh in FY 2020 to INR 235.32 lakhs in FY 2022.
The company generated positive net cash flow from operating activities in FY2022, though it was negative in FY 2020 and FY 2021.
The company seems strong financially and fundamentally.
Indian economy is likely to grow over 6.5% on average over the next five years. This will help the end user industry to grow in India and help this company's top and bottom lines.
Looking at the financials and factors mentioned above, I would prefer to invest in this SME IPO at the moment for the medium term.
Crayons Advertising IPO Review Price Details
Crayons Advertising IPO Details
Crayons Advertising IPO Date,
Price and others
Crayons Advertising IPO Date
May 22, 2023 to May 25, 2023
IPO Price
₹10 per share
IPO Allotment date
May 30, 2023
Refunds Initiation date
May 31, 2023
Credit of Shares to Demat Account
Jun 1, 2023
Crayons Advertising IPO Listing Date
Jun 2, 2023
Fresh Issue
6,430,000 Shares
Offer for Sale
Nil
Retail Shares Offered
Not less than 35% of the Net Issue
NII (HNI) Shares Offered
Not less than 15% of the Net Issue
QIB Shares Offered
Not more than 50% of the Net Issue
Face Value
INR 10 per share
Listing on
NSE Emerge
Crayons Advertising Limited Office and Lead Managers
Contact Details
Lead Managers
Crayons Advertising Limited
NSIC Complex,
Maa Anandmayee Marg Okhla Industrial Estate,
Phase- III New Delhi 110020
Phone: +91 – 9654993221
Email: cs@thecrayonsnetwork.com
Website: http://www.thecrayonsnetwork.com/
1. CORPORATE
CAPITALVENTURES
PRIVATE LIMITED
More Across from our Website
We endeavor to help you to understand different aspects of a company before you invest in the company's IPO. Learn all company insights for investment in new companies in the Indian share market 2023. To know more information about company insights for investment, business overview of companies for investment, here are some suggested readings on company insights for investment –10 Best IPOs in 2022, Tata Motors Stock Price, Tesla Stock Price Prediction 2025, Highest Dividend paying stocks, 5 best upcoming IPOs in India.
Crayons Advertising IPO allotment will be available on skylinerta website. To know your allotment status, get ready with your PAN number. Phone: 02228511022; Email: ipo@skylinerta.com