Tesla position in global EV market is a question that every investors, competitors, and individuals as asking now. Looking at the new vehicle from the compnay – Tesla CyberTruck – which will help Tesla to enter the commercial electric vehicle market, the electric vehicles market is heating up.
While Tesla is planning to start delivering Tesla Cybertruck later this year 2023, there seems lot of demand coming from worldwide for electric vehicles. "We are beginning to see EVs gain a broader foothold in the market, and this trend will only accelerate throughout the remainder of the decade," said Argonne energy and environmental analyst Dave Gohlke.
The electric vehicle is the future of the automotive industry. Governments worldwide are focusing on carbon neutralization and promoting electric vehicles through supportive policies.
Tesla has been a major player and one of the pioneers in the global electric vehicle market. The company manufactured 1.3 million electric vehicles worldwide in 2022. The company also planning to produce 20 million EVs by 2023, which is about 15 times the current production.
Global Electric Vehicles (EVs) Market
The global electric vehicle market size is 8.15 million in 2022 and is predicted to reach 40 million by 2030. According to an IEA report, Global sales of electric cars have kept rising strongly in 2022, with 2 million sold in the first quarter, up 75% from the same period in 2021.
Governments worldwide continued with a sustained policy to support subsidies and incentives for EVs. The subsidies nearly doubled in 2021 to nearly USD 30 billion. Many countries pledge to completely get rid of internal combustion engines to electric vehicles. China is the largest producer and consumer of electric vehicles globally. OEMs also have plans to electrify their fleets that go further than policy targets.
Recommended Studies for you on Tesla Inc. – Why should you invest in Tesla Stock,; Tesla Inc Integrated Ecosystem, and tesla-stock-price-prediction-2025-company-to-invest-in.

Tesla position in global EV market
Tesla is among the top producer of electric vehicles worldwide. Other OEMs are Volkswagen AG (Germany), SAIC Motors (China), BYD (China), and Stellantis (Netherlands) are the top five players in this industry globally.
Tesla is planning to capture 50% of the global EV market share by producing 20 million vehicles by 2030. That is very ambitious. Currently, the company is manufacturing and delivering 1.3 million vehicles which is roughly 16% of the total market size. With this Tesla position in global EV market will be even higher compare to its competitors.
Tesla is the most valuable auto company globally in terms of market capitalization, followed by Toyota and Volkswagen. The most important part of today's auto industry is its software, and software is a big part of Tesla's advantage.
Tesla is a vertically integrated automotive company that presents itself in vehicle manufacturing to software, hardware, charging infrastructure, as well as batteries producer.
The company has the required software that improves vehicle performance. The new Model S package unlocks a top speed of 200 miles per hour. That is most likely via a software update. Tesla also owns its dealer network. Elon Musk focuses on Tesla's Full Self-Driving software when talking about the strategy. That can only be possible through effective software.

Continuing its expansion plan worldwide. The company invested another $3.6 billion to continue growing Gigafactory Nevada, United States in 2023. Tesla is building two new manufacturing facilities with a 100 GWh 4680 cell factory that is capable to produce enough batteries for 1.5 million light-duty vehicles annually.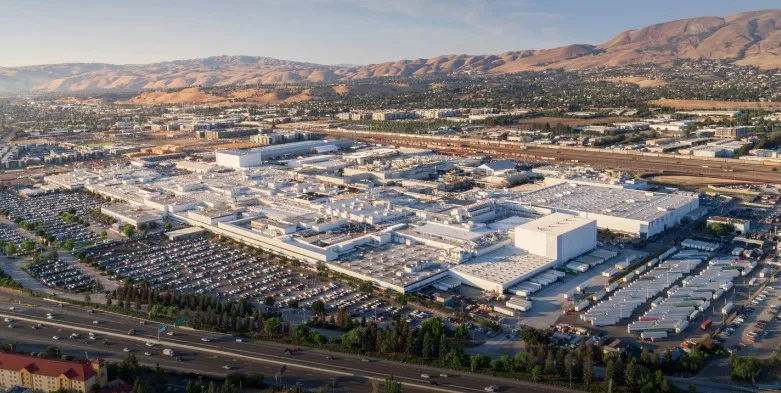 Planning a Tesla Gigafactory in Mexico, Texas, and Shanghai, China to build a next-gen vehicle platform to support new models. Tesla is reducing its Electric Vehicles prices to improve affordability. This will grow sales volume and expand Tesla's economies of scale and operating leverage. Economies of scale will reduce the cost of production.
On the other hand, Tesla is also planning to earn revenue from other services such as supercharging, hardware, software, and maintenance. This will improve Tesla's competitive advantages over the long term.
Tesla Inc Competitor Analysis
Elon Must is treating Tesla as a software company like Google or Apple. The speed of innovation in the automotive industry particularly in the Electric Vehicles market is led by Tesla. It is challenging for other competitors to be more innovative to compete with Tesla.
The biggest competitors worldwide are Volkswagen and other leading Chinese automakers. However, they lack the expertise in the software of the car like Tesla does.
Tesla has developed unique software for its specific hardware that is incomparable and completely different from the traditional automakers.
Secondly, Tesla does not believe in advertisements. You can buy any Tesla model online. You go online, pick a model, add your features, place your deposit, and schedule pickup. There is no discussion with any sales representative. Customers like the experience of controlling their purchase in choosing the features themselves.
The global Electric Vehicles market is gaining momentum and Tesla has the advantage as an early entrant. People love to drive a car that does not create pollution and charge the vehicle at their home with renewable energy.
Tesla has an edge over its competitors in terms of offerings. Other traditional car makers offer a different range of Electric Vehicles with traditional cars fitted with electric motors. However, Tesla has a leadership with highly sophisticated software incorporated in each model.
SWOT analysis of Tesla Inc :
Strengths:
Strong brand recognition and reputation for innovation in the electric vehicle market.
Vertically integrated operations that control the production of key components such as batteries.
Advanced technology and software that enable features such as autonomous driving and over-the-air updates.
The growing global market for electric vehicles and sustainable energy solutions. Coming up with new models as Tesla CyberTruck.
Weaknesses:
High production costs and ongoing investments in research and development.
Dependence on a limited number of suppliers for key components such as batteries.
Limited product portfolio with a focus on high-end electric vehicles.
Limited distribution channels compared to traditional automakers.
Opportunities:
Expanding global market for electric vehicles and sustainable energy solutions.
Growing demand for green energy and increased government incentives for electric vehicle adoption.
Potential to enter new markets, such as commercial vehicles, energy storage, and renewable energy.
Partnerships with other companies in the automotive and technology industries to develop new technologies and expand distribution channels.
Entering into the low-cost and affordable electric vehicles market.
Entering in commercial Global Electric Vehicles (EVs) Market with Tesla CyberTruck.
Threats:
Intense competition in the electric vehicle market from established automakers and emerging startups.
Regulatory challenges related to safety standards and risks that may come with the software and connectivity.
Volatility in the global supply chain, particularly in raw materials and component sourcing.
Final Word
Tesla position in global EV market is well ahead of its competitors. Tesla Inc. has a strong brand and reputation in the Global Electric Vehicles (EVs) Market. However, the company faces ongoing challenges related to production costs, competition, and supply chain management. The company has opportunities to expand into new markets and develop new partnerships. But the company will need to continue investing in research and development to maintain its position as a leader in the sustainable energy sector and Global Electric Vehicles (EVs) Market.
As the SWOT analysis of Tesla Inc, the most important challenge for the company is to move toward more affordable vehicles to gain market share. Let us wait and watch, how Tesla changing itself over the next decade.
More Across from our Website
We endeavor to help you to understand different aspects of a company before you invest in the company's IPO. Learn all company insights for investment in new companies in the Indian share market in 2023. To know more information about company insights for investment, and business overview of investment companies, here are some suggested readings on company insights for investment –10 Best IPOs in 2022, Tata Motors Stock Price, Tesla Stock Price Prediction 2025, Highest Dividend-paying stocks, 5 best upcoming IPOs in India.